From Ward N0AX's ARRL Contest Update dated February 3, 2010:
"It seems that we just sent in the logs, but 2009 ARRL November Sweepstakes results are already online, including the Club Competition! The searchable database, Log-Checking Reports and in-depth writeup will still be published on the usual schedule in QST and in expanded form on the Web. The effort to turn the scores around quickly was a great success and a big thank you is extended to the log-checkers and paper log data entry volunteers.
Due to an error in the Club database, the Northern Rockies DX Association was mistakenly listed as the winner of the Local Club category in the 2009 ARRL November Sweepstakes. The correct Local Club winner is the Spokane DX Association. (Thanks, ARRL Contest Branch Manager, Sean KX9X)."
SDXA made 462,188 points with seven entries. This club competition
combines the cw and phone sweepstakes scores.
The local scores were:
ssb-
Lamar WA7LT 161,318
Jay WA0WWW 43,068
Kirk K7EKM 30,500
Gary K7GS 19,500
Chris WX7B 17,666
cw-
Gary K7OX 155,156
Jay WA0WWW 34,980
Here is the list of the club's previous wins in gavels:
ARRL CLUB GAVELS WON – 3; now we have four!
2002 ARRL November Sweepstakes (phone) – 1st place in local club
category
2005 ARRL RTTY Roundup – 1st place in local club category
2005 ARRL International DX contest (phone) – 1st place in local club
category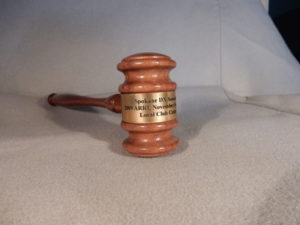 The won gavel resides with the current President of the club who uses it to call each monthly meeting to order.