Thursday, August 28th, 2014
WEAR A SDXA HAT PROUDLY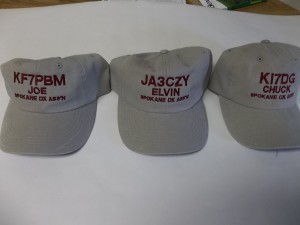 Click on the picture to enlarge it and see the hat which will make you walk proudly.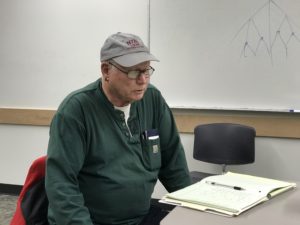 SDXA Treasurer Bob Lee N7AU showing off his SDXA hat
Here are the ordering details:
HATS $15.00 plus shipping
They say single hat shipping may be around $5 with bulk orders realizing savings in shipping to one address.
ProStitch Embroidery
PO Box 1633
Omak, Wa. 98841
Bus: 509-826-6858
Fax: 509-826-1685
Email: [email protected]
Web: www.omakprostitch.com
When you order, be sure to state that it is the Spokane DX Association hat. They have PayPal too.
WALK TALL WITH A SDXA BADGE
Members are requested to purchase a SDXA name badge in the club adopted style; wear it to meetings, Field Day, DX Conventions, and other amateur radio gatherings to show your identification and support of the organization.
Typical badge showing font and colors: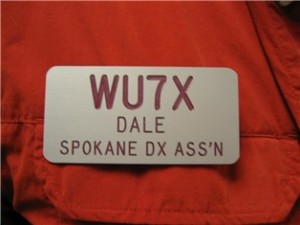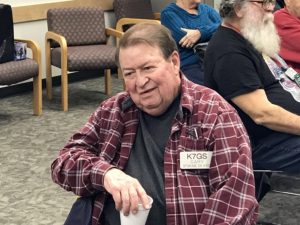 Gary Swartout K7GS proudly showing his SDXA name badge.
Badges are now available from a company called The Engraver, Inc. Here is a LINK to their website. They are at 3817 N. Monroe, Spokane, WA 99205 and phone is (509) 328-9508. Email is: [email protected]
Make sure you tell them it's a SDXA badge to match our style. And you always could pull up this webpage and show them if it is a newer employee there.
Prices are:
1 badge @ $15 (minimum purchase amount)
2-5 badges @ $9.50 each
6-10 badges @ $8.50 each
11-25 badges @ $7.50 each
Domestic shipping is $3.75 for a few
They come with a pin on the back although you can request one that slips over the shirt pocket for $1 additional.
If you need a badge, you might go in with other members to get your costs down.