Saturday, March 28th, 2020
In the March QST magazine, our own Bob (W7SX) has the feature article "Building Your Own Open-Wire Line" on pages 30-33. It is also featured on the magazine cover.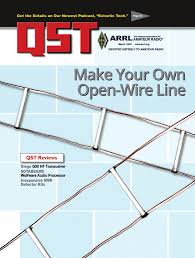 In the article, Bob shares the step-by-step construction of his incredibly efficient feed line. His rugged open-wire line holds up in difficult weather and works great even under high SWR conditions. This is the feed line he is using on his new antenna farm.