Friday, January 3rd, 2020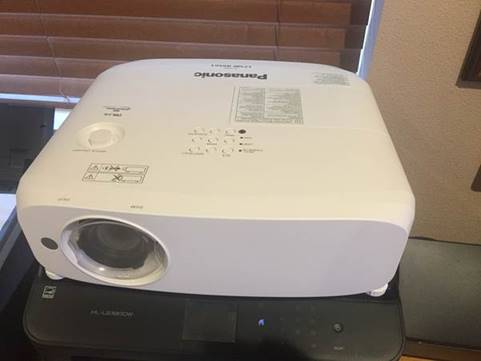 UPDATE: In the November meeting the club voted to procure a new business quality projector for future presentations and conventions. I'm happy to report that we now have our new projector shown above. This is a commercial quality Panasonic PT-VZ580 projector with a resolution of 1920 x 1200 and a brightness of 5000 lumens. It also has two HDMI ports, 2 Computer RGB ports, Ethernet input, plus a few other audio inputs. Mel did a great job of finding a good buy that was under our budget we had allocated. To top it off, a anonymous donor added a waterproof Pelican 1610 case to keep it safe in transit. I don't think we could have done better for our members and we hope you will enjoy the benefits of this new addtion for our club.
At this time, the specific link for the Projector donations are now closed. We managed to raise almost half of the total cost of the projector which really helped our treasury 🙂 So I want to extend a big THANK YOU to all of those who donated to make our club great and progressive.
List Of Donators:
Del Morissette WA7AQH
John Gager K7KB
Mel Ming N7GCO
Gary Swartout K7GS
Pat Murphy N7UVH
Bob Hallock K7TM
Bob Rosie W7GSV
Mike Buettner K7STO
Chris Pritchard WX7B
Gary Bytnar AD7XG
Jay Holcomb WA0WWW
Chuck Williams KI7DG
Bob Zavrel W7SX
Thanks so much for your donations!