Friday, November 2nd, 2018
ONE OF THE TOP CW OPERATORS IN THE WORLD
CHRIS HURLBUT KL9A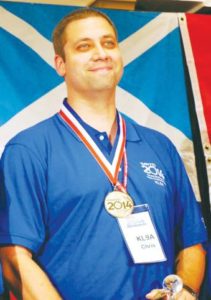 Chris Hurlbut (KL9A) – World Radio Sport Champion
This year, N6MJ/KL9A (Dan Craig and Chris Hurlbut), the defending champions from 2014, took third place. They were the highest scoring US team with over 5 million points. So there is hope for everyone. With less than a 40' tower and no amp, they made over 5 million points and 4,821 QSOs within 24 hours.
Here is the 2018 scoring for the team at the event (click it to enlarge it):

The World Radiosport Team Championship 2018 is held every four years. This year it was held in Wittenberg, Germany
All WRTC contest stations used a HD Spider Beam with a built-in 40m dipole. WIMO dipole antenna was used on 80m. The Spider beam was mounted at 12m height (Less than 40') on an aluminum telescopic mast and just below the beam was the support for the 80m dipole. All stations were identical. Each contestant brought their own transceiver running 100 watts (No AMPS).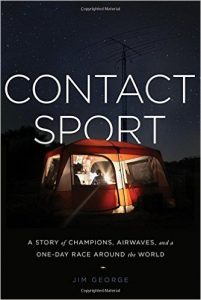 The book CONTACT SPORT featured above is the story of the 2014 WRTC event in New England, USA. A great story of each team and Dan and Chris. It is available from Amazon at $19.50 hardbound.
Chris was on the winning team for the WRSC/IARU contest in 2014 in Boston. He also won the NW Division IARU in July 2016 Operating K7IR in Oregon in Single Op, Mixed Mode, High Power. His team place third in the 2018 World Radio Sport Championship in Germany.
Chris is truly one of the best contesters in the world. His skill and ability in incredible. Chris will be sharing:
• His experiences with WRTC.
• Suggestions on how to be a better contester.
• Hints on working big gun contest stations.
This is a great opportunity to hear an Olympic champion.
Incidentally, Chris now resides in Montana; but, previously, he lived in Spokane and was a member of the SDXA while here.