Saturday, October 13th, 2018

THE CONTEST BETWEEN THE LEADING DX/CONTESTING PNW CLUBS HAS STARTED. THE PRIZE IS THIS TROPHY FOR THE CLUB'S HIGHEST SCORE IN THE 2018-2019 TEN-CONTEST EVENT. LAST SEASON, IT WENT TO THE WILLAMETTE VALLEY DX CLUB IN PORTLAND.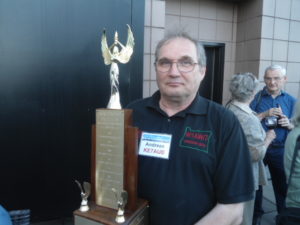 Andy KE7AUB holds the newly won Traveling Trophy. Actually since the WVDXC also won it in the 2016-2017 season, it did not do much traveling. (Picture by Mike W7VO, WVDXC President)
The ten-contesting event is between the leading Northwest DX and contesting clubs:
Spokane DX Association (SDXA)
Western Washington DX Club (WWDXC) – Seattle
Willamette Valley DX Club (WVDXC) – Portland
Orca DX and Contesting Club – Vancouver, BC, Canada
Idaho DX Association (IDXA) – Lewiston, ID.
British Columbia DX Club – Vancouver, BC, Canada
Each season, the accumulated contest points made by members are tallied to see which club makes the most points from its members over the ten contests. The contest season starts in September and ends in July.
The ten contests are (in order):
CQ ww dx rtty

– Sept 29-30 (finished)

CQ ww dx ssb

– Oct 27-28

CQ ww dx cw

– Nov 24-25
ARRL rtty roundup – Jan 5-6
CQ wpx rtty in Feb
ARRL DX CW – Feb 16-17
ARRL DX SSB – March 2-3
CQ WPX SSB in March
CQ WPX CW in May
IARU – July 13-14
the rules for some of the above contests are not available on their respective websites yet.