Sunday, June 16th, 2019
Mel N7GCO gave an introduction to the newest digital mode by Joe Taylor and friends called FT4.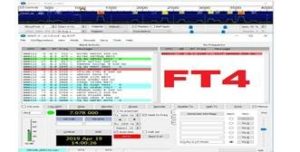 In Show and Tell,
Several hams showed off their projectile air "guns" to launch a weight with a fishing line over tall trees to eventually be able pull up a dipole, inverted V, or other wire antenna. A fly fishing rod was even shown for those who know how to manipulate the skill. Among the presenters were:
1. John (K7KB) "Serial rotor control box" – but the internet connection at the library was not behaving.
2. Mike (K7STO) "NON-Tennis Ball Antenna Launcher"
3. Harold (AD7QJ) "Tennis Ball Antenna Launcher"
4. Bob (K7TM) "Antenna Launcher #3"
5. David (WA7TNT) "ICOM AH-4 Modification" – He showed his modifications to the ICOM AH4 remote tuner so one can disconnect the control cable and coax from the unit without going inside it, which is a feat due to the number of small screws and a very thin formed gasket.