UPCOMING SDXA MEETING
August 6, 2020
Grant Saviers (KZ1W) — DXpedition to Temotu Province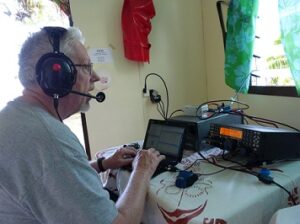 Grant KZ1W and Rob N7QT activated H40 on Pigeon Island, next to Lomlom Island in the Santa Cruz Island chain. Grant will provide us with a travelogue on his and Rob's DXpedition to rainy Temotu Province this past November (H40TT).
The operation was 10 through 160m CW/SSB/FT8/RTTY. 
They were issued two calls H40TT (Rob) & H40KT (Grant), and have been authorized to operate as H40TT for both stations.
I am sure many of you worked them.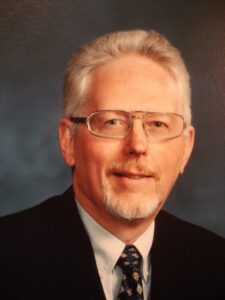 Grant will also give us a tour of his antenna farm.

Progress on Bob (W7SX) Antenna Farm
Bob finished the tower/antenna installation today on his 6 meter antenna. It is an M2 5 element 6 meter Yagi, on which he modified the driven element into a folded dipole and then fed it with 450 ohm ladder line.
This tower/antenna is at one the peaks on his property and the base is anchored in a granite outcropping…all guy anchors are also in granite.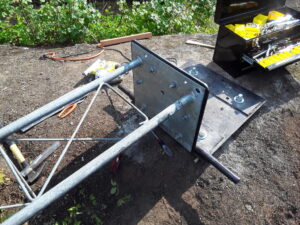 Picture 1: construction and mounting of the base plate…..extra heavy hinge is two telescoped pipes welded to the base and the tower base (standard Rohn backed with 1/4 inch steel plate.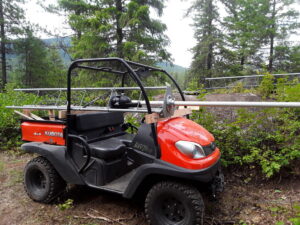 Picture 2: Kubota delivering the top section from the shop 400 feet down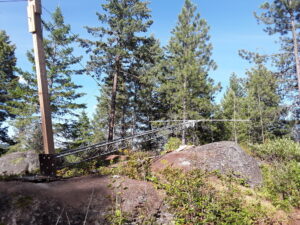 Picture 3: tower lowered
Picture 4 tower raised with the winch on the Kubota.
The tower is 30 feet but it is at the top of the property with steep drop-offs in most directions.

Fireworks From the Tower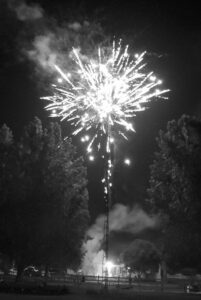 Looks like Murf's (N7UVH) Hytower is putting out some RF

Station Notebooks
Your station is one-of-kind. You need a notebook that shows how you have put it together. What connects to what?  It shows the evolution of your station. Here is where you capture important details about your station for future reference.  Whenever you add a piece of equipment, wire a gadget, note a problem, or fix a problem write it down.
I recommend you develop two notebooks:
"Station Notebook"
"Resource & Reference Notebook"

K7TM Earns DXCC 160 Meters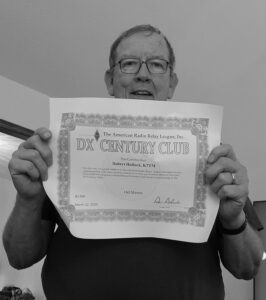 Bob Hallock (K7TM) has added DXCC 160 to his achievements.  He now has 9 band DXCC. Congratulations on a wonderful achievement.

Field Day 2020
Field Day for 2020 was different than most years.
Jim (N7ESU), Bob (K7TM) and Murf (N7UVH) aka "Idaho Renegades" did Field Day from a Fire Station in Hayden Lake.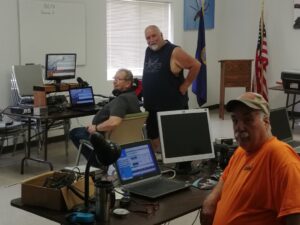 John (K7KM), Janet (WX7P), Mike (K7STO), Chuck (KI7DG) and Mel (N7GCO) used N3FJP Club logging to keep in touch.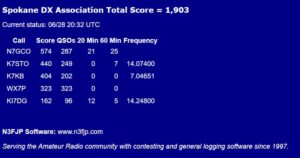 6 Meter Mod to SteppIR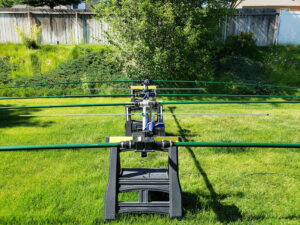 John (K7KB)  made the GM3SEK's 6 meter MOD to his SteppIR antenna. This mod adds a a new reflector as well as the extra director, making it a four element yagi on 6 meters.
Here is a link to the modification instructions:

UPCOMING SDXA PROGRAMS
September 3, 2020
Rob Fanfant (N7QT)  — So Orkney Island (VP8) DXpedition (President of WWDXC)

South Orkney Islands (IOTA AN-008) DXpedition was from Feb. 21, 2020 through March 5, 2020.  South Orkney Island is currently #16 most wanted on Clublog.  The previous Dxpedition was in 2011.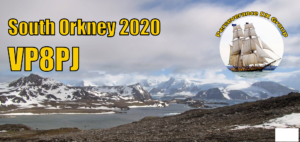 October 1, 2020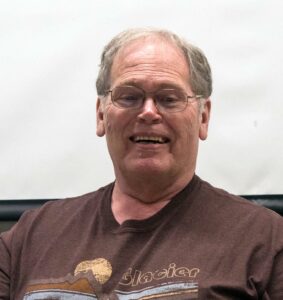 John Gager (K7KB) — "Everything You Wanted to Know About Ham Radio Deluxe But Were Afraid to Ask"
John will lead us on a deep dive into the features and options of HRD.
November 5, 2020
Jim Barber (N7CXI) – "Modern HF Amplifiers & SDR Designs"
Jim is designing his own Amp and uses SDR extensively
 Jim has over 30 years' experience in the design and implementation of firmware and software-based products for audio, RF and other industries. He holds US patents in audio DSP and robotics, and currently serves as Senior Software Engineer for F5 Networks in Liberty Lake WA.

SDXA DX
Net
Every Wednesday morning at 8 AM on 3808 Lower Side Band.
Net Controller will be Murf (N7UVH)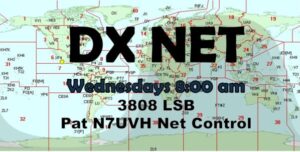 The net will be:
An open net with focus on club news, events, HF and general interests.
Run on a list
Started out by taking a check in list.
We will see if any club officers are on the net with news or information on the club.
First time down list will be weather at your QTH,
Next is what every each person wants to talk about
Third time down list will be comments on the list or whatever you might like.
Last will be final comments and questions
Check ins are encouraged to have a pen and paper to write down who you follow and who you turn it to on list and also for your thoughts.

SDXA CLUB LEADERS
SDXA Officers
President – Gary Bytnar (AD7XG) — Card Checker & Room Setup
Vice President – Mel Ming (N7GCO) — Programs, User Group & Webmaster
Secretary – Jay Holcomb (WA0WWW) — Contests & Spokane Hamfest
Treasurer – John Gager (K7KB) — Membership & Webmaster
SDXA Leaders & Activity Teams
Club Log – Pat (Murph) Murphy (N7UVH)
DXing – Mel Ming (N7GCO), Bob Hallock (K7TM), & Mike Buettner (K7STO)
DX Net – Pat (Murph) Murphy (N7UVH)
Field Day – David Wilhelm (WA7TNT) & Mike Buettner (K7STO)
Health and Welfare of Members – Gary Swartout (K7GS)
Historian – Steve Sala (K7AWB)
K7SDX Trustee – Dick Snell (W7BHP)
New HF Mentoring & Remote Station – Del  Morissette (WA7AQH)
Photographers – Jeff Banke (NZ2S) & Bob Hallock (K7TM)
Refreshments – Mike Buettner (K7STO), Bob Lee (N7AU), Diane Lee (KB7JPX), Tom Flint (KC7UG) & Cathy Flint (KB7BEK)
QSL Card Checkers — Gary Bytnar (AD7XG) & Bruce Wade N7ZA
Technical – Bob Zavrel (W7SX)
Webmasters – John Gager (K7KB), Mel Ming (N7GCO), & Del Morissette (WA7AQH)

MOST WANTED LIST (TOP 25)
FOR NORTH AMERICA, WEST COAST
AS OF January 7, 2020
from ClubLog
1. FT5/W CROZET ISLAND
2. SV/A MOUNT ATHOS
3. P5 DPRK NORTH KOREA
4. 3Y/B BOUVET ISLAND
5. FT/G GLORIOSO ISLAND
6. YK SYRIA
7. FT5/X KERGUELEN ISLAND
8. BV9P PRATAS ISLAND
9. ZS8 PRINCE EDWARD & MARION ISLANDS
10. EZ TURKMENISTAN
11. BS7H SCARBOROUGH REEF
12. CE0X SAN FELIX ISLANDS
13. PY0T TRINDADE & MARTIM VAZ ISLANDS
14. T5 SOMALIA
15. AP PAKISTAN
16. 5A LIBIA
17. YV0 AVES ISLAND
18. Z6 REPUBLIC OF KOSOVO
19. 3Y/P PETER 1 ISLAND
20. 3A MONACO
21. VU7 LAKSHADWEEP ISLANDS
22. VK0M MACQUARIE ISLAND
23. PY0S SAINT PETER AND PAUL ROCKS
24. ET ETHIOPIA
25. FT/T TROMELIN ISLAND
This list is taken from the ClubLog MOST WANTED section using filtering for North America, NA West Coast, all bands, all modes. The ClubLog list covers all 340 entities. ClubLog is free to join with many SDXA members joining.

DXPEDITION SOLICITATIONS


ALL DXpedition funding requests are to be in writing to the club's mailing address. Since funding is limited, in this manner, our DXpedition funding committee can give your request the consideration it deserves.

For additional info, try this SOLAR LINK for everything you ever wanted to know about the current Sun at the SolarHam site by VE3EN
Link to SPACEWEATHER.COM, a quick source for the daily activity on the sun
Link to NOAA SPACEWEATHER
What is this?

SDXA CALENDAR
2020
July 22, 2020 SDXA DX Net
July 29, 2020 SDXA DX Net
August 5, 2020 SDXA DX Net
August 6, 2020 SDXA Monthly meeting
JOIN THE SDXA
Regular dues – $20 per person.
Second family member – $10.
Under 19 years of age are free.
DUES LINK.
We accept PayPal too.

NW HAM RADIO CONVENTION & SWAP MEETS

Lynn N7CFO keeps the best listing.
More Information
IA ETHICS OPER PROCEDURES
OUTSIDE HELP IN ANTENNAS & TOWERS
CONTESTING LINKS

There are a lot of links to contesting activities in the DX/Contesting drop down menu above the 24-hour clock on the right of this page. But here are a couple of the best.
1. WA7BNM
2. CONTESTING.COM
INTERNET ENTITY PRONOUNCER

How do you pronounce a DX entity's name? Here is a link to the pronouncing. There is also a audio link to a human voice saying the entity's name correctly. This authority is the 3rd edition Merriam Webster Geographical Dictionary. Covering only legitimate countries, it does not cover non-country ARRL entities.
More Information
Recent News
For the Love of Drake


Dale (AF7WH), a member of our user group from CDA, has an impressive Drake collection. Using his Drake radios he has achieved WAC, WAS and DXCC. He almost has WAZ. His new goals are 5BWAS all on Drake equipment of course. Here is a photo of his Drake Tube Line (TR3, 4, & 6) Here […]
Geoff Howard (W0CG/PJ2DX) Inducted into CQ Contest Hall of Fame


Geoff Howard (W0CG/PJ2DX) was inducted into the CQ Contest Hall of Fame 2020 at Contest University. This is one of the highest awards any contester can receive. Those in the CQ Contest Hall of Fame are the giants of Amateur Radio. Geoff, your fellow members of the SDXA add their congratulations. No one deserves this […]
New Grounding Project by K7STO


Mike (K7STO) has added to his grounding/lightning protection for his tower. The enclosure box is 18x18x8 deep and includes two-line control devices and six coax devices. For the grounding/lightning protection, he used Morgan systems suppressors. Antennas routed through this enclosure include 3-element SteppIR, 80/40 dipole. 80m vertical, 160, inverted L and 2,/70cm vertical. Note the […]
SDXA Lending Library


Did you know that the SDXA has a lending library? Each month Jay (WA0WWW) brings these books in his truck and any member can check them out. Up the Tower by Steve Morris, K7LXC ($35) If you are thinking of putting up a tower, this is a great book. Array of Light, 3rd edition: Straight […]
New CQ Awards Checker (including WAZ)


We are excited to announce that Gary Bytnar (AD7XG) has received appoint as an Official CQ Awards checker. This means you can get your CQ WAZ QSL cards checked locally. Congratulations Gary! Thanks for serving the SDXA in this needed area.