December SDXA Awards Meeting
Date: December 3, 2020
Time: 7:00 PM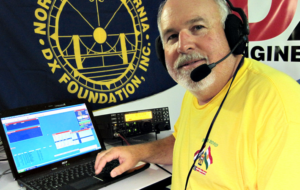 Speaker: Paul Ewing N6PSE, President of The Intrepid DX Group, will be our speaker for the December Spokane DX Association Awards Meeting.
Some of Intrepid DX Group DXpeditions have included:
YI9PSE — Iraq
3D2R — Rotuma
ST0R – South Sudan
3D2C — Conway Reef
VP8SGI — South Georgia and VP8STI South Sandwich
VP8 –- South Orkney Island
Paul will be sharing:
Who makes up the Intrepid DX Group?
Where they are going next?
How they pick their destinations?
How do they keep good chemistry on the team?

UPCOMING PROGRAMS
January 7, 2021
Geoff Howard (W0CG/PJ2DX) will be sharing updates on the happenings at PJ2T
Geoff Howard (W0CG/PJ2DX) was inducted into the CQ Contest Hall of Fame 2020 at Contest University. This is one of the highest awards any contester can receive. Those in the CQ Contest Hall of Fame are the giants of Amateur Radio.

February 4, 2021
Janet Lowrey (WX7P)  "Building an antenna farm"
Janet has been building an antenna farm in Benton City. Janet will be sharing lessons learned – things that went right and things that didn't.

March 4, 2021
Doug Grant (K1DG) "Optimizing Your Station for Contest Operations"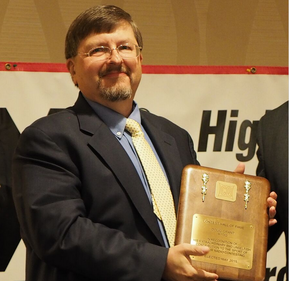 Doug is author of the excellent book "Amateur Radio Contesting for Beginners." He was Chairman of the highly successful 2014 World Radiosport Team Championship. Doug is a regular speaker at Contest University.

April 1, 2021
Chuck Williams (KI7DG) "Paper Chasing: Strategies for Success"
Chuck is the ultimate expert on paper chasing. Literally every wall in his shack is covered with plaques and certificated. Learn about the fun of chasing and getting awards. Chuck is the master at this.

May 6, 2021
Mike Buettner (K7STO) "Ham how to do things"
Mike will be sharing half a dozen hints on how to be more effective: labeling coax, batteries for the MFJ analyzer, GPS time for remote FT8 timing and several others.
Before Mike's retirement to Moses Lake he was a Master Electrician, State Electrical Inspector, State Electrical Plans Examiner.

SDXA DX
Net
Every Wednesday morning at 8 AM on 3808 Lower Side Band.
Net Controller will be Murf (N7UVH)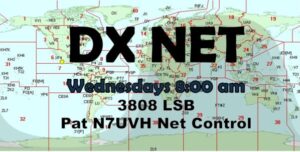 The net will be:
An open net with focus on club news, events, HF and general interests.
Run on a list
Started out by taking a check in list.
We will see if any club officers are on the net with news or information on the club.
First time down list will be weather at your QTH,
Next is what every each person wants to talk about
Third time down list will be comments on the list or whatever you might like.
Last will be final comments and questions
Check ins are encouraged to have a pen and paper to write down who you follow and who you turn it to on list and also for your thoughts.

SDXA CLUB LEADERS
SDXA Officers
President – Gary Bytnar (AD7XG) — Card Checker & Room Setup
Vice President – Mel Ming (N7GCO) — Programs, User Group & Webmaster
Secretary – Jay Holcomb (WA0WWW) — Contests & Spokane Hamfest
Treasurer – John Gager (K7KB) — Membership & Webmaster
SDXA Leaders & Activity Teams
Club Log – Pat (Murph) Murphy (N7UVH)
DXing – Mel Ming (N7GCO), Bob Hallock (K7TM), & Mike Buettner (K7STO)
DX Net – Pat (Murph) Murphy (N7UVH)
Field Day – David Wilhelm (WA7TNT) & Mike Buettner (K7STO)
Health and Welfare of Members – Gary Swartout (K7GS)
Historian – Steve Sala (K7AWB)
K7SDX Trustee – Dick Snell (W7BHP)
New HF Mentoring & Remote Station – Del Morissette (WA7AQH)
Photographers – Jeff Banke (NZ2S) & Bob Hallock (K7TM)
Refreshments – Mike Buettner (K7STO), Bob Lee (N7AU), Diane Lee (KB7JPX), Tom Flint (KC7UG) & Cathy Flint (KB7BEK)
QSL Card Checkers — Gary Bytnar (AD7XG) & Bruce Wade (N7ZA)
Technical – Bob Zavrel (W7SX)
Webmasters – John Gager (K7KB), Mel Ming (N7GCO), & Del Morissette (WA7AQH)

RECENT WORKSHOPS
Introduction to Contesting – Mel (N7GCO)
Introduction to QSLing – Mel (N7GCO)
RTTY Contesting with N1MM+ (Jay KS7I)
Using N1MM+ for CQ WW DX RTTY Contest (Randy K7TQ)
Using N1MM+ for CQ WW CW and ARRL Sweepstakes CW (Randy K7TQ)
Using N3FJP Contest Software (Mike K7STO)
New to HF (Del WA7AQH & Mel N7GCO)

MOST WANTED LIST (TOP 25)
FOR NORTH AMERICA, WEST COAST
AS OF July 20, 2020
from ClubLog
1. FT5/W CROZET ISLAND
2. SV/A MOUNT ATHOS
3. P5 DPRK NORTH KOREA
4. 3Y/B BOUVET ISLAND
5. FT/G GLORIOSO ISLAND
6. YK SYRIA
7. FT5/X KERGUELEN ISLAND
8. BV9P PRATAS ISLAND
9. ZS8 PRINCE EDWARD & MARION ISLANDS
10. EZ TURKMENISTAN
11. BS7H SCARBOROUGH REEF
12. 3A MONACO
13. CE0X SAN FELIX ISLANDS
14. PY0T TRINDADE & MARTIM VAZ ISLANDS
15. T5 SOMALIAAP PAKISTAN
16. YV0 AVES ISLAND
17. 5A LIBIA
18. Z6 REPUBLIC OF KOSOVO
19. 3Y/P PETER 1 ISLAND
20. VK0M MACQUARIE ISLAND
21. VU7 LAKSHADWEEP ISLANDS
22. PY0S SAINT PETER AND PAUL ROCKS
23. FT/T TROMELIN ISLAND
24. ET ETHIOPIA
25. EP IRAN
This list is taken from the ClubLog MOST WANTED section using filtering for North America, NA West Coast, all bands, all modes. The ClubLog list covers all 340 entities. ClubLog is free to join with many SDXA members joining.

DXPEDITION SOLICITATIONS


ALL DXpedition funding requests are to be in writing to the club's mailing address. Since funding is limited, in this manner, our DXpedition funding committee can give your request the consideration it deserves.

For additional info, try this SOLAR LINK for everything you ever wanted to know about the current Sun at the SolarHam site by VE3EN
Link to SPACEWEATHER.COM, a quick source for the daily activity on the sun
Link to NOAA SPACEWEATHER
What is this?

SDXA CALENDAR
2020
November 28-29, 2020 CQ WW DX CW Contest
December 2, 2020 SDXA DX Net
December 3, 2020 SDXA Awards Program
December 5, 2020 FT Roundup Contest
JOIN THE SDXA
Regular dues – $20 per person.
Second family member – $10.
Under 19 years of age are free.
DUES LINK.
We accept PayPal too.

NW HAM RADIO CONVENTION & SWAP MEETS

Lynn N7CFO keeps the best listing.
More Information
IA ETHICS OPER PROCEDURES
OUTSIDE HELP IN ANTENNAS & TOWERS
CONTESTING LINKS

There are a lot of links to contesting activities in the DX/Contesting drop down menu above the 24-hour clock on the right of this page. But here are a couple of the best.
1. WA7BNM
2. CONTESTING.COM
INTERNET ENTITY PRONOUNCER

How do you pronounce a DX entity's name? Here is a link to the pronouncing. There is also a audio link to a human voice saying the entity's name correctly. This authority is the 3rd edition Merriam Webster Geographical Dictionary. Covering only legitimate countries, it does not cover non-country ARRL entities.
More Information
Recent News
Congratulations to Bob Lee (N7AU) for winning the 2019 CQ WW DX 160 meter contest 2019 Plaque

Congratulations to Dale Dean (AF7WH) on First DXCC

RTTY Contest Workshops


"Introduction to RTTY Contesting Workshop" Monday, September 21st at 7 PM on Zoom Presenter: Jay (WS7I) and Host Mel (N7GCO) The primary audience is those knew to RTTY and RTTY Contesting or new to N1MM+. Jay will focus on how to set up and use N1MM+ for RTTY Contests. He will also talk about connecting […]
CQ WW 160 Meter Contest


Bob Lee (N7AU) won the Zone 3 CQ WW 160 meter Contest Plaque with the top score in this zone. This is a wonderful accomplishment from the Pacific Northwest.
Year End Flounder Cup Competition Report


We have finished the 2019-2020 Flounders Cup Competition. Randy (K7TQ) has published the final report. Congratulations to both Randy (K7TQ) 1,210,083 points and Gary (K7GS) 1,033,821 points. Enjoy reading Randy's excellent anaylsis. FlounderCupJulrA