THURSDAY – DECEMBER 6, 2018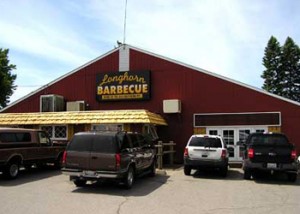 Longhorn BBQ
7611 W Sunset Hwy #2 – east end of Airway Heights
It's a BBQ buffet with three different meats including BBQ ribs, BBQ zesty pork, and BBQ beef.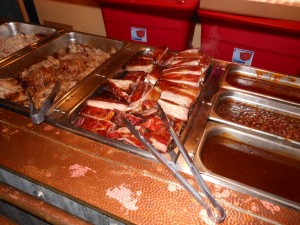 Typical food at the banquet
The 2018 Annual Awards Banquet will be December 6th this year, again at the Longhorn BBQ in Airway Heights. This is a great opportunity to meet new friends, rekindle old friendships, brag about your latest DX catch, and just have fun! Eyeball QSO's / "refreshments" start at 6PM, with the dinner starting at 7:00PM.
The cost for the banquet this year is $28.00 per person, which includes the gratuity and a desert.
You can pay by check to our mailing address (at the top of this page).
Or to make it easier to pay, we offer a PayPal option with the button below. When you click the Add To Cart button, it will take you to our PayPal page showing 1 item in the cart. If two or more people are attending, just change the number in the Quantity box by using the minus (-) or plus (+) symbols next to the quantity. Once you are done, either click the orange-colored PayPal Check Out button on the page (and it will take you to your PayPal login page to finish your transaction) or select Check Out – Pay Without A PayPal Account if you do not have a PayPal account.
Please be sure to note that once you log-in, there is a section at the very top of the page titled "Special Instructions" where it asks you to enter your name/call sign (and your guest) so we know who is coming and who paid us. Be sure to click this link and enter this information so we can keep a list of those attending.
We have to give the LongHorn a number count to ensure we have enough food and for seconds.
We look forward to seeing you at the banquet!
PAYPAL OPTION BEING WORKED ON. STAND BY – QRX