The next regular meeting will be on November 1 at 7 pm at the North Spokane Library on Hawthorne Road. See below for directions to the library.
The Program:
Chris Hurlbut KL9A, a special speaker from Montana
"Contesting"
Past World Radio Sport Champion
Chris was on the winning team for the WRTC/IARU contest in 2014 in Boston. Also
won the NW Division IARU in July 2016 Operating K7IR in Oregon in Single Op,
Mixed Mode, High Power. His team in 2018 took 3rd place in the WRTC/IARU contest.
 His experiences with WRTC.
 Suggestions on how to be a better contester.
————————————————————————————————–
LIBRARY MEETING LOCATIONS

:
Regular monthly meetings are usually alternated between Spokane County Libraries, and are always at 7:00PM the first Thursday of the month:
++++++++++++++++++++++++++++++
North Spokane Library
44 E. Hawthorne Road
A Spokane County library
LIBRARY LINK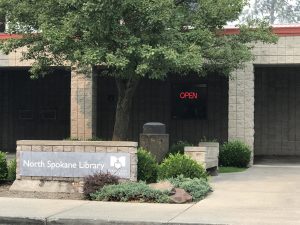 NORTH SPOKANE LIBRARY ON HAWTHORNE ROAD
To get to the site, from I-90 go north on Division/Ruby (US-395 & US-2) until the two highways split (just over 6 miles). Continue north on Division (US-395, left at the "Y" split) to the second traffic light (first Country Homes, then Hawthorne) and turn right (east) onto Hawthorne. The library is one block east of Division; the entrance is on the south side of the building. Library phone number 893-8350.
To see a map of the North Spokane Library (Hawthorne Road), click MAP.
++++++++++++++++++++++++++++
Spokane Valley Library
12004 E. Main Street (behind Chase Bank on Sprague Avenue)
A Spokane County library
LIBRARY LINK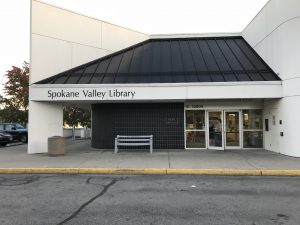 To see a map of the Valley Library, click on MAP.
++++++++++++++++++++++++++++
Argonne Library
4322 N. Argonne Road in Spokane Valley.
a Spokane County library
LIBRARY LINK

From I-90, take the Argonne Road exit and head north for about 1.5 miles. You will cross the river and proceed to the intersection at Upper River Drive. The library will be on your right. Library phone number 893-8260.
To see a map of the Argonne Library (Argonne Road), click MAP.
+++++++++++++++++++++++++++
Otis Orchards Library
22324 E. Wellesley Avenue. Otis Orchards, WA 99027 just east of Harvard and Wellesley
A Spokane County library
Library Phone number: 893‐8390
LIBRARY LINK