The next meeting will be our annual Awards Banquet on December 6. The gathering starts at 6PM and the food starts at 7PM. Its a BBQ with three choices of meat, many sides,and desert plus drinks. The biography of the guest speaker Jim Fenstermaker K9JF is posted on the main page of this site. Also, the directions to the LongHorn BBQ in Airway Heights is shown and payment methods for the banquet including PayPal.
The January, 2019 meeting will be at the Argonne Library on Argonne Road in Spokane Valley on January 3 at 7pm. A great presentation on ham radio audio by Del WA7AQH.
————————————————————————————————–
LIBRARY MEETING LOCATIONS

:
Regular monthly meetings are usually alternated between Spokane County Libraries, and are always at 7:00PM the first Thursday of the month:
++++++++++++++++++++++++++++++
North Spokane Library
44 E. Hawthorne Road
A Spokane County library
LIBRARY LINK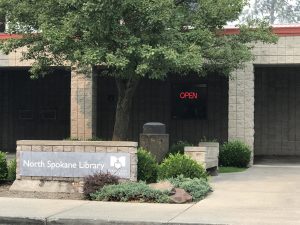 NORTH SPOKANE LIBRARY ON HAWTHORNE ROAD
To get to the site, from I-90 go north on Division/Ruby (US-395 & US-2) until the two highways split (just over 6 miles). Continue north on Division (US-395, left at the "Y" split) to the second traffic light (first Country Homes, then Hawthorne) and turn right (east) onto Hawthorne. The library is one block east of Division; the entrance is on the south side of the building. Library phone number 893-8350.
To see a map of the North Spokane Library (Hawthorne Road), click MAP.
++++++++++++++++++++++++++++
Spokane Valley Library
12004 E. Main Street (behind Chase Bank on Sprague Avenue)
A Spokane County library
LIBRARY LINK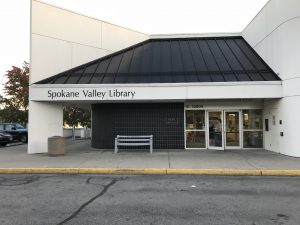 To see a map of the Valley Library, click on MAP.
++++++++++++++++++++++++++++
Argonne Library
4322 N. Argonne Road in Spokane Valley.
a Spokane County library
LIBRARY LINK

From I-90, take the Argonne Road exit and head north for about 1.5 miles. You will cross the river and proceed to the intersection at Upper River Drive. The library will be on your right. Library phone number 893-8260.
To see a map of the Argonne Library (Argonne Road), click MAP.
+++++++++++++++++++++++++++
Otis Orchards Library
22324 E. Wellesley Avenue. Otis Orchards, WA 99027 just east of Harvard and Wellesley
A Spokane County library
Library Phone number: 893‐8390
LIBRARY LINK