LAMAR RAY WA7LT – SK
ONE OF OUR ORIGINAL SDXA FOUNDERS
August 10, 1933 – June 2, 2018

The memorial
will be held at:
Unitarian Universalist Church
4340 W Ft George Wright
Spokane, WA 99225
Saturday, July 21 @ 2pm
The obituary from the July 15, 2018 Spokesman Review:
Charles Lamar Ray was born in 1933 to Miles Rufus Ray and Ruby Mowdy Ray in Detroit Michigan.He passed away on June 2, 2018 in Spokane, WA.
Lamar was an avid Ham Radio Operator, obtaining his first Federal Communication License in 1948. He was known in the Ham Radio community as C. Lamar Ray WA7LT (ex: K9CUY and W9LT). Lamar was a founding member of the Fort Wayne, IN DX Association and the Spokane, WA DX Association. He was also a member of the Potomac Valley Radio Club.
An active DXer and especially a Contester, he was an operator at the K2GL super-station during the 60s as well as many other contesting venues; some of which he hosted. Lamar was an ARRL Life Member and an ARRL member for over 70 years.
He graduated from University of Michigan in 1956 earning a BS in electrical engineering. Most of his working career was with Magnavox. His work assignments took him to the Washington DC area as well as to Italy.
A memorial service will be held on July 21, 2018 at 2:00 PM at the Unitarian Universalist Church of Spokane.
Be prepared to tell your favorite "Lamar stories."
The gathering will be informal with refreshments after…including his favorite fruit bowl salad!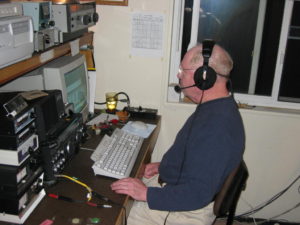 Doing what he did best – contesting
THE ORIGINAL SDXA FOUNDING TRIO
All three Silent Keys in 2018
Thank you for your service to the SDXA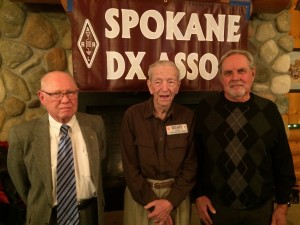 left to right: Lamar Ray WA7LT, Dan Hearn N5AR, & Gary Elliott K7OX
Our beginnings article LINK
SUMMER SDXA PICNIC
SATURDAY
AUGUST 25, 1-5 pm
SPOKANE'S SHADLE PARK OFF OF WELLESLEY
The club will be buying the main entrée (Longhorn Pulled Pork) and providing plates, silverware, napkins and cups
Club members are asked to bring:
• For calls ending (last letter of call) in A-H, bring a water bottles, pop or other non-Alcoholic drink
• For calls ending (last letter of call) in I-P, bring an appetizer or Salad or chips
• For calls ending (last letter of call) in Q-Z, bring a dessert
Looking forward to seeing everyone August 25th, 1-5 pm
SPOKANE'S SHADLE PARK OFF OF WELLESLEY
Please RSVP to Mel (teammel@gmail.com) so we have enough pulled pork.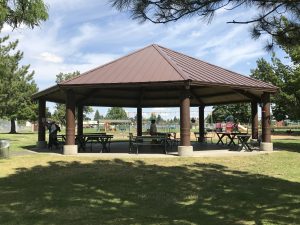 the Shadle Park gazebo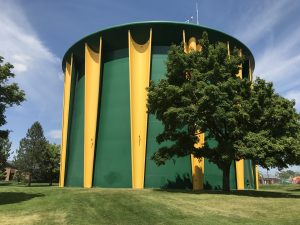 the gazebo is just South of the green and yellow painted water tower, representing Shadle High School's colors
we have the covered gazebo again, rain or shine; set your calendars for this great event, same place as last year

PNW CONTEST COMPETITION INFO

CONTEST 10 OF 10:
ARRL IARU/WRTC HF CHANPIONSHIP
July 14-15, 2018 is over. The ten-contest 2017-2018 season has ended. How did SDXA do against the west coast power clubs? Soon we will get that information and publish how SDXA members did as well as each of the participating clubs. Logs due within 5 days to the ARRL!
This contest is the tenth in the ten contest adventure between the leading Northwest DX and contesting clubs:
Spokane DX Association (SDXA)
Western Washington DX Club (WWDXC) – Seattle
Willamette Valley DX Club (WVDXC) – Portland
Orca DX and Contesting Club – Vancouver, BC, Canada
Idaho DX Association (IDXA) – Lewiston, ID.
British Columbia DX Club – Vancouver, BC, Canada
Each season, the accumulated contest points made by members are tallied to see which club makes the most points from its members over the ten contests. The contest season starts in September and ends in July.
The ten contests are (in order):
CQ ww dx rtty Sept 23-24, 2017 finished
CQ ww dx ssb Oct 28-29, 2017 finished
CQ ww dx cw Nov 25-26, 2017 finished
ARRL rtty roundup Jan 6-7, 2018 finished
CQ wpx rtty Feb 10-12, 2018 finished
ARRL DX CW February 17-18, 2018 finished
ARRL DX SSB March 3-4, 2018 finished
CQ WPX SSB March 24-25, 2018 finished
CQ WPX CW May 26-27, 2018 finished
IARU July 14-15, 2018 finished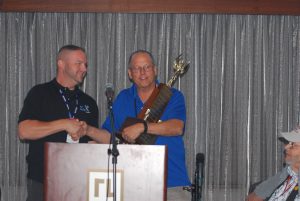 The prize
THANKS TO ROB FANFANT (N7QT) FOR THE GREAT DIGITAL F8 PRESENTATION AT OUR JULY MEETING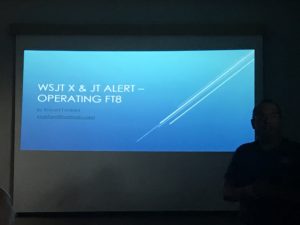 The title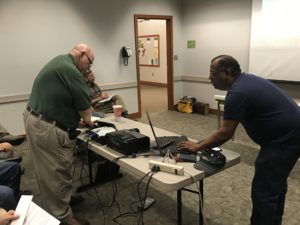 SDXA Vice-President Mel N7GCO (left) helping Rob N7QT prepare the A-V for the meeting
GARY ELLIOTT K7OX – SK
ONE OF OUR ORIGINAL SDXA FOUNDERS


December 19, 1937 – June 11, 2018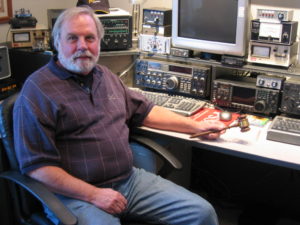 Gary was the first President of the SDXA when it started in 2002. He served a total of 4.3 years for 2002, 2003, part of 2007, 2008, and 2009. He was the first Chairman of the Pacific Northwest DX Convention held in Spokane Valley in 2009 when the SDXA joined the rotation with other NW DX clubs in presenting the yearly event.
PJ2T ARTICLE BY SDXA MEMBER
GEOFF HOWARD W0CG/PJ2DX –
HIS CURACAO CONTEST STATION IN THE
MAY ISSUE OF CQ MAGAZINE
Thanks to Rich W2VU: "Reprinted with permission from the May 2018 CQ magazine; Copyright CQ Communications, Inc., All Rights Reserved."
ARTICLE LINK
JUNE MINUTES RELEASED
MINUTES LINK

WELCOME RETURNING MEMBER
MERLE TRENARY K7EIQ
ELK, WA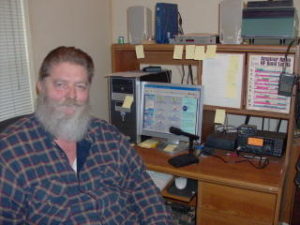 WELCOME NEW MEMBER
SCOTT MILLER N7SJM
TONASKET, WA

Per his QRZ.com page: Located in North Central Washington, Okanogan County, just 30 miles south of the Canadian border, and up around 3000 feet elevation on 40 acres.
K7ID IDAHO KARS HAMFEST CANCELED
From their website:
2018 KARS Hamfest Canceled as of 2018-06-16
Due to a number of factors, the KARS Board has canceled this year's KARS Hamfest, originally scheduled for 7/14/2018. We apologize for the inconvenience this may cause. That doesn't mean you're out of luck for a local area hamfest, however. The Spokane-area hamfest is scheduled for September 22nd so be sure to mark your calendar. We will also now add back into the calendar the monthly meeting and license testing for July 9th. We hope to see you there.
Now you have no reason for not being in the IARU contest with the WRTC every-fourth-year parallel competition. More details below in PNW Contest Competition Info article.
FLYER FOR SEPTEMBER 22
SPOKANE HAMFEST RELEASED
FLYER LINK
UPCOMING & CURRENT DXPEDITIONS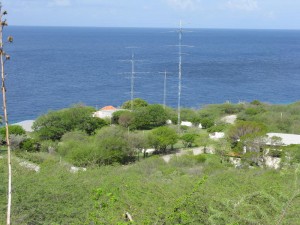 Anyone for Curacao?

DXPEDITION LINK for more.

MOST WANTED LIST (TOP 20) FOR NORTH AMERICA, WEST COAST AS OF JULY 7, 2018
from Club Log
1. SV/A MOUNT ATHOS
2. FT5/W CROZET ISLAND
3. P5 DPRK (NORTH KOREA)
4. 3Y/B BOUVET ISLAND
5. FT/G GLORIOSO ISLAND
6. YK SYRIA
7. FT5/X KERGUELEN ISLAND
8. BV9P PRATAS ISLAND
9. ZS8 PRINCE EDWARD & MARION ISLANDS
10. BS7H SCARBOROUGH REEF
11. EZ TURKMENISTAN
12. Z6 REPUBLIC OF KOSOVO
13. CE0X SAN FELIX ISLANDS
14. T5 SOMALIA
15. PY0T TRINDADE & MARTIM VAZ ISLANDS
16. 5A LIBYA
17. VK0M MACQUARIE ISLAND
18. YV0 AVES ISLAND
19. 3A MONACO
20. 3Y/P PETER 1 ISLAND

REMEMBERING OUR SILENT KEYS – LINK


If you have any more pictures or documents relating to these SDXA Silent keys, let Steve K7AWB know.

SDXA'S PNW DX CHALLENGE CUP SCORES (SO FAR)


Go to this March 30, 2018 LINK

JUNE SDXA DX NET CHECK-INS
June 28

W7GSV BOB
K7TM BOB
WUTX DALE
WA0WWW JAY
K7GS GARY
AD7XG GARY
K7AWB STEVE
N7AU BOB, net control
COMING TO A SDXA MEETING IN NOVEMBER

NEW SDXA TRI-FOLD BROCHURE AVAILABLE
UPDATED APRIL 28, 2018
This document includes our new President Gary Bytnar AD7XG. Members are urged to print copies of the brochure and distribute to their interested friends or at ham conventions/hamfests/swap meets, etc.
SDXA MEMBER INFORMATION
All members to asked to be certain their contact information is up to date in the SDXA records. A roster of members can be requested from our Secretary Jay Holcomb WA0WWW.
DXPEDITION SOLICITATIONS
ALL DXpedition funding requests are to be in writing to the club PO Box address. Since funding is limited, in this manner, our DXpedition funding committee can give your request the consideration it deserves.

SOLAR ACTIVITY AND PROPAGATION SECTION

This feature is always at the bottom of the web page so I thought I would bring it up top to reintroduce it back to some of you.
For additional info, try this SOLAR LINK for everything you ever wanted to know about the current Sun at the SolarHam site by VE3EN
Link to SPACEWEATHER.COM, a quick source for the daily activity on the sun
Link to NOAA SPACEWEATHER
What is this?
The Miscellaneous Area



SDXA CALENDAR

(#x/y = PNW DX Cup)

2018

Jul 21 WA7LT Memorial
Jul 26 SDXA DX Net
Aug 25 SDXA Picnic
Sept 6 SDXA Meeting
Sept 27 SDXA DX Net
Oct 4 SDXA Meeting
Nov 1 SDXA Meeting
Dec Awards Banquet




JOIN THE SDXA

Regular dues – $20 per person.
Second family member – $10.
Under 19 years of age are free.
DUES LINK.
We accept PayPal too.




NW HAM RADIO CONVENTION & SWAP MEETS

Lynn N7CFO keeps the best listing.




MEMBERSHIP ROSTER ACCESS

Active SDXA members can request a copy by email. Contact Secretary Jay WA0WWW. A simple list of members, and links to their QRZ.com sites, is at the Membership Tab.




LOCAL CARD CHECKERS


Bruce Wade N7ZA



IARC ETHICS & OPER PROCEDURES




OUTSIDE HELP IN ANTENNAS & TOWERS