NEW ARRL NW DIRECTOR
AND VICE DIRECTOR ELECTED

new NW Director W7VO Mike Ritz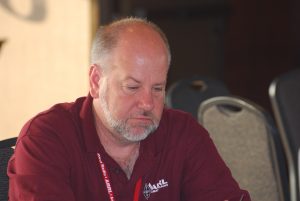 new NW Vice Director KB7HDX Mark Tharp
Here are the votes:
Northwestern Division Director
Mike Ritz, W7VO 1,589
Bonnie Altus, AB7ZQ 1,308
Horace Hamby, N7DRW 495
Mr. Ritz was declared elected.
Northwestern Division Vice Director
Mark Tharp, KB7HDX 1,368
Daniel Stevens, KL7WM 1,228
Delvin Bunton, NS7U 767
Mr. Tharp was declared elected.
Hopefully we can have them visit us in 2019.
SIGN UP FOR THE SDXA ANNUAL AWARDS BANQUET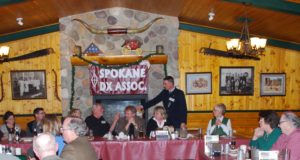 a banquet from the past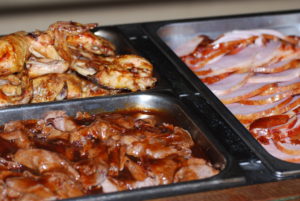 typical selections

The dinner a couple of years ago
DATE: December 6, 2018
TIME: 7PM dinner (6PM early rag chew)
GUEST OF HONOR: Jim Fenstermaker K9JF
THE DINNER: A BBQ feast – three meats (bbq ribs, zesty bbq pork, & bbq beef), all the sides, regular drinks, & desert
WHO WILL BE THERE?: Hopefully the entire SDXA membership and their guests
PLACE: Longhorn BBQ, Airway Heights
LOCATION: East end of Airway Heights at 7611 W. Sunset Highway (Highway 2)
COST: $28 a person
PAYMENT METHODS:

PayPal – see below on how to use the BUY NOW PayPal button
Send a check to SDXA address
Pay at the door (last choice)
To pay by PayPal:
choose how many people you are paying for, one, two, or three
enter the names and ham calls of who are attending
press the BUY NOW button
enter your PayPal email address and password
it shows your address and a choice of how to pay – your choice!
after paying, you will get an email as a receipt
PAY YOUR 2019 SDXA DUES EARLY
Regular membership dues for 2019 are $20
A second family member's dues are $10
Under 19 years of age, dues are waived
You can pay by check to our mailing address in Cheney (at top of page) or
Pay at the next meeting (cash or check) or
Pay using use PayPal (PAYPAL PAYMENT LINK)

.

If you are joining for the first time, here is the INFO LINK
A Membership Application is required (MEMBERSHIP APPLICATION LINK)
NOVEMBER 2018 MEETING MINUTES LINK
SDXA FIELD DAY 2019?
LINK to more info
LATEST SDXA MEMBERS' TOTALS IN THE PNW RACE
NOVEMBER 4, 2018 LINK
THANKS TO CHRIS HURLBUT KL9A
FOR HIS GREAT PRESENTATION ON THE
WRTC EVENT IN GERMANY THIS YEAR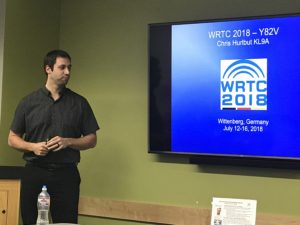 An informative presentation on the 2018 event in which he and his partner Dan Craig N6MJ took 3rd place out of 65 teams; plus a review of when they took 1st place in the 2014 New England event.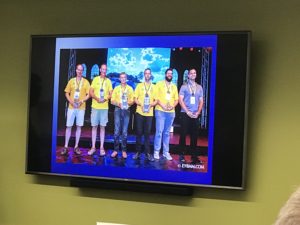 The first, second, and third place team finishers. Chris is on the far right side.
ANOTHER PJ2T ARTICLE AVAILABLE
The Organizational Nuts and Bolts of PJ2T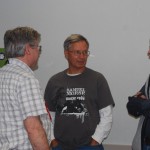 Geoff W0CG/PJ2DX in the middle
Curacao DX super contest station is one of our favorites. One of our member of the SDXA from North Idaho, Goeff Howard W0CG/PJ2DX, is the owner, manager, and chief bottle washer. Here is another sort-of- new article approved for our reprint from the ARRL. It is called The Organizational Nuts and Bolts of PJ2T and is written by Goeff, originally published in the January/February 2018 NCJ..
Reprinted with permission, Jan/Feb 2018 NCJ; copyright ARRL
SDXA BADGES & SDXA HATS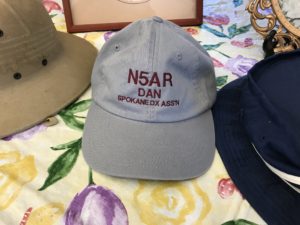 the hat of
Dan Hearn N5AR (SK)
– a great guy
SDXA badges and sdxa hats can be obtained at this LINK.
ELECTIONS FOR THE 2019 YEAR ANNOUNCED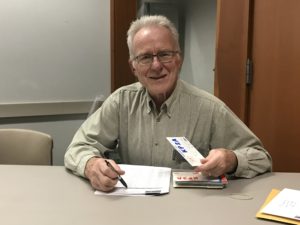 President
Gary Bytnar AD7XG
(reelected)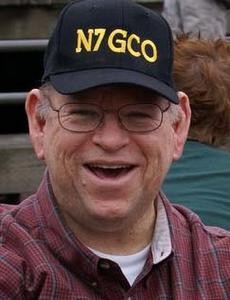 Vice-President Mel Ming N7GCO (reelected)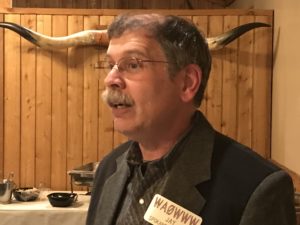 Secretary Jay Holcomb WA0WWW (reelected)
Treasurer John Gager K7KB elected
(picture pending)
NO SDXA DX NET IN NOVEMBER
The November 22 Net is canceled due to its conflict with the Thanksgiving holiday.
What do you think of the Net? Due to a low representation of our members at net time, should we keep it or delete it? Remember you cannot be for the net to continue if you do not check in. Hi HI – – Let your officers know your opinion.

BOOK REVIEW OF W7SX BOB ZAVREL'S
ANTENNA PHYSICS BOOK
PUBLISHED IN THE
NOVEMBER/DECEMBER, 2018 NCJ JOURNAL

LINK TO THE REVIEW

Reprinted with permission, Nov/Dec 2018 NCJ; copyright ARRL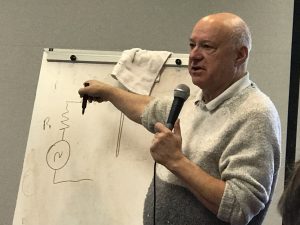 Bob W7SX lecturing to the SDXA
For more information about the National Contest Journal, published by the ARRL, use this ARRL LINK
SUBTOTALS FROM THE FIRST CONTEST IN THE
PNW CHALLENGE CUP COMPETITION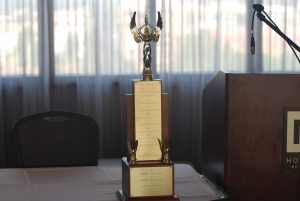 It's the competition between six PNW DX/contesting clubs through ten contests. Jay WA0WWW is our representative tallying the SDXA's scores and submitting them to the group as they occur.
There is both the tally of the SDXA members and the then the tally of the six clubs (SDXA awards a certificate at the its Annual Awards Banquet for the highest total SDXA member and any SDXA member who enters and submits for all ten contests).
The ten-contesting event is between the leading Northwest DX and contesting clubs:
Spokane DX Association (SDXA)
Western Washington DX Club (WWDXC) – Seattle
Willamette Valley DX Club (WVDXC) – Portland
Orca DX and Contesting Club – Vancouver, BC, Canada
Idaho DX Association (IDXA) – Lewiston, ID.
British Columbia DX Club – Vancouver, BC, Canada
SDXA MEMBER TOTALS AS OF NOVEMBER 4, 2018 LINK includes first three of the ten contest results among SDXA members
The comparison of the six clubs' scores are not available yet, but will be posted when they are available.
The ten contests are (in order):
The rules for some of the above contests are not available on their respective websites yet. Both CQ and the ARRL are slow in publishing the rules for the next contests. The ones in red (linkable) are the only ones currently published.
WHAT IS AN ELMER?
SDXA MEMBERS HAVE VOLUNTEERED
THEIR SERVICES TO YOU
SDXA members should have a list of the other members and their contact info, available from Secretary Jay WA0WWW by asking via email.
Oh, the Elmer definition. Here is an ARRL ELMER LINK to its meaning.
THANKS TO GEOFF W0CG – PJ2DX AND HIS PROGRAM ON CONTEST STATION PJ2T IN CURACAO

Geoff was the guest speaker at the October, 2018 SDXA meeting. His contest station observed its 50th birthday with the one remaining ham (Al Rousseau W1FJ) who operated at the original contest invited to attend. The event was featured in an article by Geoff published in the May, 2018 issue of CQ Magazine. Here is a
LINK
to that article.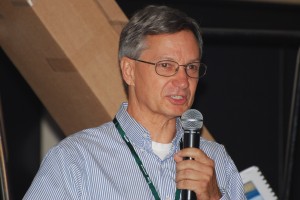 Geoff W0CG speaking at a past SDXA-sponsored convention
Here is a link to the PJ2T website where you can make arrangements to travel to Curacao and operate at PJ2T:
PJ2T LINK
WE HAVE CHANGED OUR MAILING ADDRESS Spokane DX Association
13010 S Short Rd
Cheney, WA 99004
The move was made to be more efficient:
1. We get very little mail in the PO Box, but it means someone has to make an hour or more trip to check it.
2. The box was costing $62 a year.
3. This way, the SDXA mail can be checked every day.
PAST AND CURRENT NEWS WE ARE WORKING ON.
As a sub-contest to the main PNW Challenge Cup 10-contest event, the Idaho-based IDEX club and SDXA have agreed to use their scores in the main contest to see who can score the most points and get the new trophy (to be decided). So SDXA members need to go all out and enter and score heavily in the remaining nine contests.
With a new trustee for our call of K7SDX, the SDXA officers will make a decision with Dick W7BHP on how to handle members wanting to use the K7SDX call for events and contests.
We have our changed our mailing address. Renewals and new members should use the new address for prompter attention.
SUNSPOTS ARE OUR FRIENDS
THE 2018 NORMAL: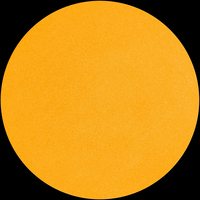 BUT WE WISH FOR:


OCTOBER SDXA DX NET CHECK-INS
Steve Sala, temporary Net Control
WA0WWW JAY
W7AL AL (visitor)
NEXT NET WOULD BE NOVEMBER 22, BUT THAT IS THE THANKSGIVING HOLIDAY. A DECISION WILL BE MADE SOON ON THIS MATTER.
145.25 MHZ REPEATER, NO TONE, MINUS OFFSET
<
UPCOMING & CURRENT DXPEDITIONS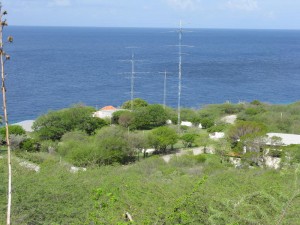 Anyone for Curacao?

DXPEDITION LINK for more.

MOST WANTED LIST (TOP 20) FOR NORTH AMERICA, WEST COAST AS OF OCTOBER 2, 2018
from ClubLog
1. P5 DPRK (NORTH KOREA)
2. 3Y/B BOUVET ISLAND
3. FT5/W CROZET ISLAND
4. CE0X SAN FELIX ISLANDS
5. BS7H SCARBOROUGH REEF
6. BV9P PRATAS ISLAND
7. KH7K KURE ISLAND
8. KH3 JOHNSON ISLAND
9. VK0M MACQUARIE ISLAND
10. FT5/X KERGUELEN ISLAND

11. 3Y/P PETER 1 ISLAND
12. FT/G GLORIOSO ISLAND
13. YV0 AVES ISLAND
14. KH4 MIDWAY ISLAND
15. ZS8 PRINCE EDWARD & MARION ISLANDS
16. VP8O SOUTH ORKNEY ISLANDS
17. PY0T TRINDADE & MARTIM VAZ ISLANDS
18. PY0S SAINT PETER AND PAUL ROCKS
19. VP6/D DUCIE ISLAND
20. SV/A MOUNT ATHOS

This list is taken from the ClubLog MOST WANTED section using filtering for North America, NA West Coast, all bands, all modes. The ClubLog list covers all 340 entities.


SDXA MEMBER INFORMATION


All members to asked to be certain their contact information is up to date in the SDXA records. A roster of members can be requested from our Secretary Jay Holcomb WA0WWW.

DXPEDITION SOLICITATIONS

ALL DXpedition funding requests are to be in writing to the club's mailing address. Since funding is limited, in this manner, our DXpedition funding committee can give your request the consideration it deserves.


SOLAR ACTIVITY AND PROPAGATION SECTION


This feature is always at the bottom of the web page so I thought I would bring it up top to reintroduce it back to some of you.
For additional info, try this SOLAR LINK for everything you ever wanted to know about the current Sun at the SolarHam site by VE3EN
Link to SPACEWEATHER.COM, a quick source for the daily activity on the sun
Link to NOAA SPACEWEATHER
What is this?
The Miscellaneous Area



SDXA CALENDAR

(#x/y = PNW DX Cup)

2018

no SDXA DX Net in Nov
Nov 24-25 CQ ww dx cw
Dec 6 Awards Banquet
Dec 20 SDXA DX Net

2019
Jan 3 SDXA Meeting
Jan 5-6 RTTY Roundup




JOIN THE SDXA

Regular dues – $20 per person.
Second family member – $10.
Under 19 years of age are free.
DUES LINK.
We accept PayPal too.




NW HAM RADIO CONVENTION & SWAP MEETS

Lynn N7CFO keeps the best listing.




MEMBERSHIP ROSTER ACCESS

Active SDXA members can request a copy by email. Contact Secretary Jay WA0WWW. A simple list of members, and links to their QRZ.com sites, is at the Membership Tab.




LOCAL CARD CHECKERS


Bruce Wade N7ZA



IARC ETHICS & OPER PROCEDURES




OUTSIDE HELP IN ANTENNAS & TOWERS
Recent News
OCTOBER, 2018 EDITION OF SDXA TRI-FOLD BROCHURE


.
2018 SALMON RUN CONTEST RESULTS


.
NOVEMBER 2018 MEETING FEATURES CHRIS HURLBUT KL9A ON THE WRTC WINS


.
SDXA'S CALL OF K7SDX HAS A NEW TRUSTEE


.
WELCOME NEW MEMBER: JANET LOWREY WX7P – BENTON CITY, WA


.