MAY 2018 MINUTES RELEASED
Minutes LINK
JUNE 7 MEETING ANNOUNCEMENT
North Spokane Library, Thursday, 7pm

THE PROGRAM: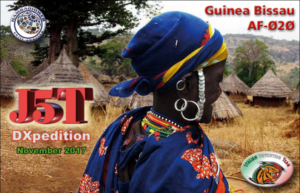 THE J5T QSL CARD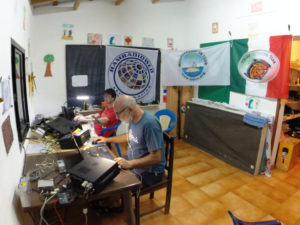 THE J5T CREW AT WORK
Remember the rare DXpedition from Guinea-Bissau in Africa using call J5T? We have their latest 30 minute video on the DXpedition in November, 2017 to show.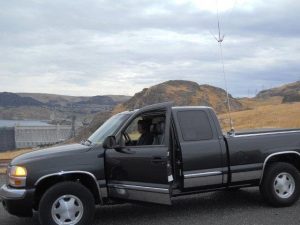 THE WA0WWW MOBILE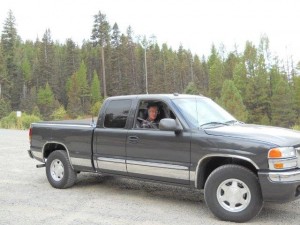 ANOTHER VIEW OF THE WA0WWW MOBILE
One of our leading mobile operators is Secretary Jay WA0WWW. Jay will discuss mobile haming.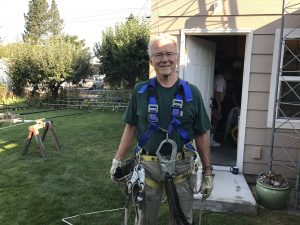 GARY AD7XG SUITING UP FOR WORK AT K7HPT'S QTH
We will have another of those great Vice-President Mel N7GCO directed station tours for our new President Gary AD7XG in Davenport.
Visitors are always welcome to attend.
SDXA DX NET MOVES FROM
3RD THURSDAY TO 4TH PERMANENTLY
NEXT DX NET:
MAY 24, 7PM, 145.25 MHZ, NO TONE, MINUS OFFSET

An unanimous vote from the SDXA at the May 3rd meeting changed the DX Net from the third Thursday of the month to the 4th Thursday in order to accommodate more check-ins from the ARES members who have a meeting conflict on the 3rd Thursday. That means the next Net is on
Thursday, May 24th at 7 pm
on 145.25 MHz with no tone and minus offset.
April 26, 2018 check-ins
W7MEM MARK
K7TM BOB
W7GSV BOB
K7GS GARY
WA7AQH DEL
N7GCO MEL
AD7XG GARY
WA0WWW JAY
K7AWB STEVE
N7AU BOB, net control
CONTEST 9 OF 10: CQ WPX CW May 26-27, 2018
It starts at 5 pm Friday and ends at 5 pm Sunday local time
Logs due within 5 days!

This contest is the ninth in the ten contest adventure between the leading Northwest DX and contesting clubs:
Spokane DX Association (SDXA)
Western Washington DX Club (WWDXC) – Seattle
Willamette Valley DX Club (WVDXC) – Portland
Orca DX and Contesting Club – Vancouver, BC, Canada
Idaho DX Association (IDXA) – Lewiston, ID.
British Columbia DX Club – Vancouver, BC, Canada
Each season, the accumulated contest points made by members are tallied to see which club makes the most points from its members over the ten contests. The contest season starts in September and ends in July.
The ten contests are (in order):
CQ ww dx rtty Sept 23-24, 2017 finished
CQ ww dx ssb Oct 28-29, 2017 finished
CQ ww dx cw Nov 25-26, 2017 finished
ARRL rtty roundup Jan 6-7, 2018 finished
CQ wpx rtty Feb 10-12, 2018 finished
ARRL DX CW February 17-18, 2018 finished
ARRL DX SSB March 3-4, 2018 finished
CQ WPX SSB March 24-25, 2018 finished
CQ WPX CW May 26-27, 2018
IARU July 14-15, 2018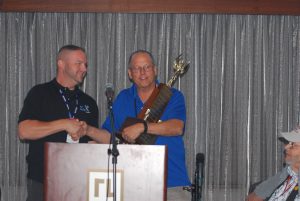 The prize
IT'S THE SUMMER SDXA PICNIC
SATURDAY
AUGUST 25, 1-5 pm
SPOKANE'S SHADLE PARK OFF OF WELLESLEY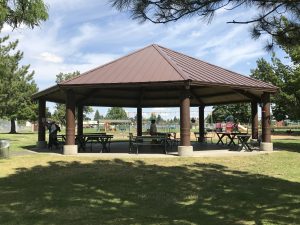 the Shadle Park gazibo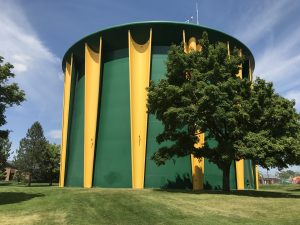 the gazibo is just South of the green and yellow painted water tower, representing Shadle High School's colors
we have the covered gazebo again, rain or shine; set your calendars for this great event, same place as last year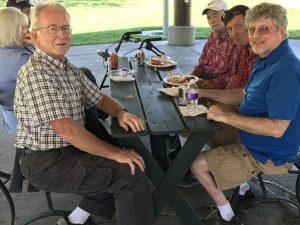 some of the participants at the 2017 picnic
More details will come later as the officers plan the consumables.
2018 WILL BE A GREAT YEAR FOR THE SDXA
HERE ARE THE FUTURE TENTATIVE PROGRAMS

WAZ
THE WORKED ALL ZONES AWARD
The combination of CQ Communication's WAZ system with the ARRL's LOTW system is now complete. CQ Communications publishes the magazine called CQ. If you are working on the ARRL's DXCC awards, you probably know about the WAZ Awards for working all 40 zones on single bands or modes. Many years ago, CQ Communications defined the surface of the earth into 40 zones. It has been one of the more popular awards with many variations. Anyway, now your LOTW credits can be applied solely or with QSL cards to satisfy the requirements. LOTW credits are obtained via the LOTW system where you pay the ARRL for accepting the matched submittals from a particular QSO.

You still have to submit for your WAZ award, not through the ARRL, but the CQ system, and can combine LOTW credits with your QSL cards. There are several WAZ card checkers (checkpoints) throughout the USA and Canada that can check your cards. Unfortunately, there are none in the Spokane area unless someone wants to step up and apply to be a local WAZ checker through the CQ system.

Here are a link for further information. It is a little sketchy right now on how the system works, but it just started this week. hi hi

CQ Communications sponsors the following awards:

• CQ DX Awards
• CQ DX Marathon
• CQ WAZ Awards
• CQ Diamond Jubilee WAZ Award
• CQ WPX Awards
• CQ Halls of Fame
• CQ USA-CA Award

LINK to the WAZ official rules.

Any WAZ questions you have on the award can be addressed to:

John Bergman, KC5LK
WAZ Award Manager
125 Deer Trail
Brandon MS 39042-9409
e-mail: kc5lk@cq-amateur-radio.com

John clarified some issues with me:

1) you have made a LOTW submission and you want to know what to do next: Nothing. I will let you know when I work my way to your application.
2) you make a 40 card paper application and want to know what to do next; mail everything to either my address listed on the CQ website or in CQ magazine or a CQ checkpoint that is listed on the CQ website.
3) you have some cards and you have some LOTW credits that cover all 40 zones and you want to know what to do next. Same as number 2.
4) The ARRL does not check paper cards for any CQ Award unless the ARRL DXCC Card Checker is also a CQ Checkpoint. There is a current list of CQ Checkpoints on the CQ Website.

REMEMBERING OUR SILENT KEYS – LINK


If you have any more pictures or documents relating to these SDXA Silent keys, let Steve K7AWB know.

RECENT NEW SDXA MEMBERS


Terry Clark
N7IHM
Omak, WA
______________

Catherine Flint
KB7BEK
Ephrata, WA

SDXA'S PNW DX CHALLENGE CUP SCORES (SO FAR)


Go to this March 30, 2018 LINK

COMING IN APRIL, 2019
TO A SDXA MEETING NEAR YOU





NEW SDXA TRI-FOLD BROCHURE AVAILABLE


UPDATED APRIL 28, 2018

This document includes our new President Gary Bytnar AD7XG. Members are urged to print copies of the brochure and distribute to their interested friends or at ham conventions/hamfests/swap meets, etc.


SDXA MEMBER INFORMATION


All members to asked to be certain their contact information is up to date in the SDXA records. A roster of members can be requested from our Secretary Jay Holcomb WA0WWW.

DXPEDITION SOLICITATIONS

ALL DXpedition funding requests are to be in writing to the club PO Box address. Since funding is limited, in this manner, our DXpedition funding committee can give your request the consideration it deserves.


UPCOMING & CURRENT DXPEDITIONS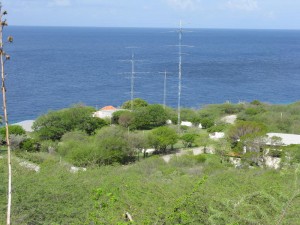 Anyone for Curacao?

These are not the only DXpeditions coming up or currently on so go to this DXPEDITION LINK for more.

BAKER ISLAND – KH1
June 26 – July 06
The Baker Island 2018
Commemorative DXpedition
Destination: Baker Island, South Pacific
0°11′41″N 176°28′46″W
IOTA OC-089 GRID AJ10 CQ Zone 31 ITU Zone 61
MOST WANTED LIST (TOP 20) FOR NORTH AMERICA, WEST COAST AS OF MAR 27, 2018
1. SV/A MOUNT ATHOS
2. FT5/W CROZET ISLAND
3. P5 DPRK (NORTH KOREA)
4. 3Y/B BOUVET ISLAND
5. FT/G GLORIOSO ISLAND
6. Z6 REPUBLIC OF KOSOVO
7. YK SYRIA
8. FT5/X KERGUELEN ISLAND
9. BV9P PRATAS ISLAND
10. ZS8 PRINCE EDWARD & MARION ISLANDS
11. BS7H SCARBOROUGH REEF
12. EZ TURKMENISTAN
13. CE0X SAN FELIX ISLANDS
14. T5 SOMALIA
15. PY0T TRINDADE & MARTIM VAZ ISLANDS
16. KH1 BAKER HOWLAND ISLANDS
17. 3B7 AGALEGA & BRANDON ISLANDS
18. VK0M MACQUARIE ISLAND
19. 5A LIBYA
20. 3A MONACO

SOLAR ACTIVITY AND PROPAGATION SECTION

This feature is always at the bottom of the web page so I thought I would bring it up top to reintroduce it back to some of you.
For additional info, try this SOLAR LINK for everything you ever wanted to know about the current Sun at the SolarHam site by VE3EN
Link to SPACEWEATHER.COM, a quick source for the daily activity on the sun
Link to NOAA SPACEWEATHER
What is this?
The Miscellaneous Area



SDXA CALENDAR

(#x/y = PNW DX Cup)

2018

May 24 SDXA DX Net
May 26-27 #9/10 WPX CW
June 7 SDXA Meeting
July 5 SDXA Meeting
July 14-15 #10/10 IARU
Aug 25 SDXA Picnic
Sept 6 SDXA Meeting
Oct 4 SDXA Meeting
Nov 1 SDXA Meeting




JOIN THE SDXA

Regular dues – $20 per person.
Second family member – $10.
Under 19 years of age are free.
DUES LINK.
We accept PayPal too.




NW HAM RADIO CONVENTION & SWAP MEETS

Lynn N7CFO keeps the best listing.




MEMBERSHIP ROSTER ACCESS

Active SDXA members can request a copy by email. Contact Secretary Jay WA0WWW. A simple list of members, and links to their QRZ.com sites, is at the Membership Tab.




LOCAL CARD CHECKERS


Bruce Wade N7ZA



IARC ETHICS & OPER PROCEDURES




OUTSIDE HELP IN ANTENNAS & TOWERS
Recent News
DAN HEARN N5AR SK


.
BOB ZAVREL W7SX PRESENTED AT THE MAY 3, 2018 MEETING ON ANTENNAS


.
SDXA HAS A NEW PRESIDENT – GARY AD7XG


.
SDXA CELEBRATES ITS 16TH BIRTHDAY


.
TWO PROPOSED CONSTITUTION AMENDMENTS FAIL


.