November SDXA Meeting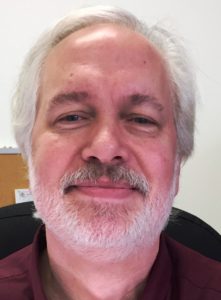 For our November SDXA Meeting we will have
Bart Jahnke, (W9JJ)  
ARRL Radiosport and Field Services Manager
By Skype
TOPIC: "Maximizing LoTW"
Using LoTW effectively
How to verify what countries, modes, and bands you have worked? And Not worked?
How to check your status for various awards?
How to apply for the various awards?
How to quickly see your LoTW progress?
And other hints for using LoTW?
DATE: November 7, 2019
Location: North Library
We will be doing something unique. We will show his PowerPoint on the big TV Screen and show Bart with the projector, so you will see both at once.
The November meeting will also have the election of officers for 2020.

Tower and Antenna Work in the club
This week, Mike Buettner (K7STO), with the assistance of Bob Lee (N7AU) and Woody Jacobson (N7HCJ) lowered Mikes 60 ft tower down. Performed yearly antenna and tower maintenance (checked every thing over) then added my first 160m antenna (inverted L) to the tower. Mike has a wonderful setup for raising and lowering his tower.
Jeff Banke (NZ2S) along with Greg Preuses (N6WCN) helped Gordon Olsson (AA6TQ) remove a dipole off Gordon's roof and tighten some bolts on his yagi.
David Wilhelm (WA7TNT) is working on putting up his tower. David is completely rebuilding a Mosely TA-33 and hopes to install it at the top of 3-4 sections of Rohn 25. The hole is dug, rebar, tilt base plate bolts, and gin pole are in place. Concrete in the next few days.
Bob Zavrel (W7SX) has been busy putting up wire antennas on his antenna farm. All are center fed wires with lengths of 50, 90, 110 and 220 feet and tree supported.
Mel Ming (N7GCO) just put up a Butternut HF2V vertical to give him another option on 40 and 80 meters. Put out 40 radials. Also added radials to his 160 meter inverted L antenna.
Jeff Banke (NZ2S) and Dave Lehman (WA7F) put up Dave's 60ft tower. Jeff did the crane work and Dave the climbing.
Bob Hallock (K7TM) put up an 160 meter inverted L for Jim Monroe (N7ESU). They went up in the tree about 70-80 ft and then horizontal close to 100 ft.
Del Morissette (WA7AQH) received his SteppIR Urban Beam he won at the DX Convention. Hopes to get it up for winter.
I am sure there are others I have missed.

DX Expedition Card From Bob K7TM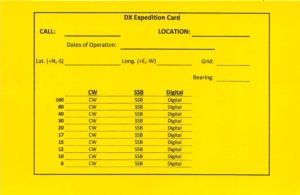 Hints:
Fill out one card for each upcoming DX Expedition.
Mark out all previously confirmed contacts
Add the frequencies they will be using beside band and mode
Link to download master you can use to print your own: DX Expedition CARD #3- 2 per page

New to HF
At the 2019 Spokane Hamfest, Del (WA7AQH) presented a Seminar on Getting into HF. We will be using this in connection to all new General Class License classes in the area. You can download the powerpoint and handout if you would like to see them.
Link to Powerpoint Getting Started in HF 4
Link to handout Getting into HF
Link to Mentors/Elmers Elmer Resource Page

SDXA CLUB LEADERS
Club Log – Chuck Williams (KI7DG)
Contests – Jay Holcomb (WA0WWW)
DX Net – Pat (Murph) Murphy (N7UVH)
Google User Group – Mel Ming (N7GCO)
Health and Welfare of Members – Gary Swartout (K7GS)
Historian – Steve Sala (K7AWB)
K7SDX Trustee – Dick Snell (W7BHP)
Membership – John Gager (K7KB)
Meeting Refreshments – Mike Buettner (K7STO), Bob Lee (N7AU), Diane Lee (KB7JPX), Tom Flint (KC7UG) & Cathy Flint (KB7BEK)
Meeting Setup — Gary Bytnar (AD7XG)
New HF Mentoring & Remote Station – Del  Morissette (WA7AQH)
Photographers – Jeff Banke (NZ2S) & Bob Hallock (K7TM)
President – Gary Bytnar (AD7XG)
Programs – Mel Ming (N7GCO)
QSL Card Checkers — Gary Bytnar (AD7XG) & Bruce Wade N7ZA
Secretary – Jay Holcomb (WA0WWW)
Spokane Hamfest – Jay Holcomb (WA0WWW)
Technical – Bob Zavrel (W7SX)
Treasurer – John Gager (K7KB)
Vice President – Mel Ming (N7GCO)
Webmasters – Del Morissette (WA7AQH), John Gager (K7KB), Mel Ming (N7GCO)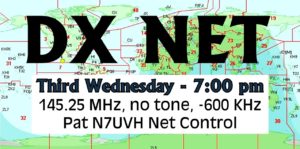 ---
LIST OF NEW & RETURNING MEMBERS IN 2019
NZ2S – Jeff Banke, Colbert, WA
WA7F – Dave Lehmann, Mead, WA (a new call too, was ki7aar)
WA7TNT – David Wilhelm, Cheney, WA
N7ESU – Jim Monroe, Rathdrum, ID
KW7J – Harvey Brown, Greenacres, WA
N7MA – Mark Avakian, Cataldo, ID
AA7RT – Mary Wiese, Spokane, WA
KF7ME – Joe Burnett, Chattaroy, WA
KC7IGR – Tina Burnett, Chattaroy, WA

OCTOBER 2019 MINUTES RELEASED
---
---

The Flounder Cup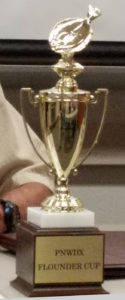 As explained in the September meeting, the IDXA and SDXA has a difficult time competing with our DX brothers of Vancouver, Seattle, and Portland. We have always just "floundered" about trying to compete with those big guns but come home empty handed when it comes time for the PNW Challenge Cup presentation. So in the spirit of a friendly and fun competion, after having dinner with Rob Fanfant, and officers of IDXA/SDXA, The Flounder Cup was created by Randy Foltz – K7TQ as a local trophy that we can compete for.
The first presentation of the Flounder Cup was at the September 5th meeting of the SDXA with our club winning the trophy for this year. The IDXA won the "Per Participant" category and certificate.
Randy created a nice .pdf file (Acrobat) about the Flounder Cup and the link is below:
So lets see who wins the award for next year!

Did you know the SDXA won
four ARRL-sponsored gavels in its early history?
Go to our CONTESTING LINK and read about the four gavels.
Here is a picture of one of the gavels which our current President uses to start the monthly meetings and to keep order.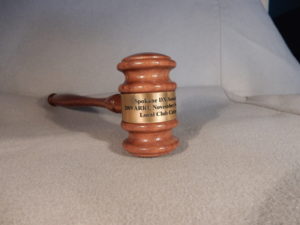 Also at this same Contesting Link is an updated listing (SDXA Club Competition Results) of how the SDXA did in certain contests throughout its history.

MOST WANTED LIST (TOP 25)
FOR NORTH AMERICA, WEST COAST
AS OF JULY 1, 2019
from ClubLog
1. FT5/W CROZET ISLAND
2. P5 DPRK NORTH KOREA
3. SV/A MOUNT ATHOS
4. 3Y/B BOUVET ISLAND
5. FT/G GLORIOSO ISLAND
6. YK SYRIA
7. FT5/X KERGUELEN ISLAND
9. ZS8 PRINCE EDWARD & MARION ISLANDS
8. BV9P PRATAS ISLAND
10. EZ TURKMENISTAN
11. BS7H SCARBOROUGH REEF
12. CE0X SAN FELIX ISLANDS
13. T5 SOMALIA
14. PY0T TRINDADE & MARTIM VAZ ISLANDS
15. Z6 REPUBLIC OF KOSOVO
16. 5A LIBIA
17. YV0 AVES ISLAND
18. 3A MONACO
19. 3Y/P PETER 1 ISLAND
20. VU7 LAKSHADWEEP ISLANDS
21. VK0M MACQUARIE ISLAND
22. E4 PALESTINE
23. ET ETHIOPIA
24. FT/T TROMELIN ISLAND
25. PY0S SAINT PETER AND PAUL ROCKS
This list is taken from the ClubLog MOST WANTED section using filtering for North America, NA West Coast, all bands, all modes. The ClubLog list covers all 340 entities. ClubLog is free to join with many SDXA members joining.
DXPEDITION SOLICITATIONS


ALL DXpedition funding requests are to be in writing to the club's mailing address. Since funding is limited, in this manner, our DXpedition funding committee can give your request the consideration it deserves.

For additional info, try this SOLAR LINK for everything you ever wanted to know about the current Sun at the SolarHam site by VE3EN
Link to SPACEWEATHER.COM, a quick source for the daily activity on the sun
Link to NOAA SPACEWEATHER
What is this?
SDXA CALENDAR
2019
Sept 18 SDXA DX Net
Sept 20-21 Washington State Salmon Run
Sept 28 Spokane Hamfest
Sept 28-29 CQ WW DX RTTY Contest
Oct 3 SDXA Meeting
Oct 16 SDXA DX NET
Oct 26-27 CQ WW DX SSB Contest
JOIN THE SDXA
Regular dues – $20 per person.
Second family member – $10.
Under 19 years of age are free.
DUES LINK.
We accept PayPal too.





NW HAM RADIO CONVENTION & SWAP MEETS

Lynn N7CFO keeps the best listing.
More Information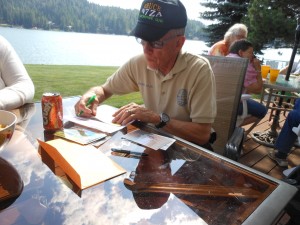 Bruce Wade N7ZA



IARC ETHICS OPER PROCEDURES



OUTSIDE HELP IN ANTENNAS & TOWERS



CONTESTING LINKS

There are a lot of links to contesting activities in the DX/Contesting drop down menu above the 24-hour clock on the right of this page. But here are a couple of the best.
1. WA7BNM
2. CONTESTING.COM



INTERNET ENTITY PRONOUNCER

How do you pronounce a DX entity's name? Here is a link to the pronouncing. There is also a audio link to a human voice saying the entity's name correctly. This authority is the 3rd edition Merriam Webster Geographical Dictionary. Covering only legitimate countries, it does not cover non-country ARRL entities.
More Information
Recent News
SDXA MEETING MINUTES REORGANIZED


.
Meet Our 2021 PNWDX Convention Chairman!


I'm happy to announce that Emmett McCormick (NA7EM) with the Idaho DX Association (IDXA) has stepped up to the plate to be our chairman for the 2021 Pacific Northwest DX Convention! It is really nice to have members from IDXA take the lead on this and I'm looking forward to a great convention! I wanted […]
2019 Pacific NW DX Convention


The 2019 Pacific NW DX Convention was hosted by the Western Washington DX Club in Everett, WA. The attendance was the highest ever. A number of members of the SDXA participated. Dr Joe Taylor (K1JT) whose work in Astrophysics led to a Nobel Prize for his study of gravitational radiation of binary pulsars. He was […]
GEOFF HOWARD W0CG/PJ2DX FEATURED IN THE JULY/AUGUST NCJ


The July/August 2019 issue of National Contest Journal (NCJ) has an excellent article by our own Geoff Howard (W0CG/PJ2DX) titled "A Pictorial Guide to Corrosion-Proofing for Seaside Antenna Systems." Geoff is certainly an expert on this (and many other things) and we are so glad to have his as part of the SDXA. Enjoy the […]
GOING TO A HAM CONVENTION, SWAPMEET, TAIL GATE PARTY, CONFERENCE, HAMFEST, OR CAMPOUT?


.