Meet Our 2021 PNWDX Convention Chairman!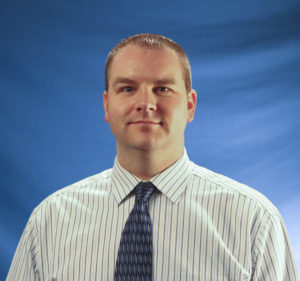 I'm happy to announce that Emmett McCormick (NA7EM) with the Idaho DX Association (IDXA) has stepped up to the plate to be our chairman for the 2021 Pacific Northwest DX Convention! It is really nice to have members from IDXA take the lead on this and I'm looking forward to a great convention!
I wanted to know a little more about Emmett and the IDXA so I sent him a few questions to know a bit more about our chairman and the club:
How long have you been DX'ing and what is your main interest?
I've been DXing for 27 years. I love CW and the older digital modes.
Do you do any contesting, and if so, do you have a favorite?
I contest anytime I can. I'm not a big name contester using full power and large antenna arrays, I just enjoy the thrill of making contacts. I've always run barefoot or QRP.
I'm a SOTA participant and active goat packer….I'm on the board for the North American Pack Goat Association to actively fight legislators threatening goat access to public lands……so WG0AT is not the only one out there playing radio with goats.
What kind of equipment and antennas do you have at the QTH?
I run a Yaesu FTDX-3000 barefoot into a 6-BTV currently. I'm in the process re-erecting a 70' Rohn 45 tower with a TH7DX beam. More antennas are planned for the future but I just recently moved to my new QTH on some acreage.
When was the IDXA first formed, and who started it?
The Idaho DX Association is a fully incorporated, non-profit, ARRL Affiliated, amateur radio organization formed in 2011 by Emmett McCormick, NA7EM. With a passionate interest in DX contesting, the IDXA club mission is to create unity among Idaho contesters, promote the spirit of amateur radio through respectful contesting, and to contribute to the overall goodwill worldwide.
How many members does the club currently have?
We currently have 40 members, although with any club, only a handful are actively submitting scores.
Do you have monthly meetings? If so, when and where?
We meet quarterly, usually in Lewiston, but also run a teleconference during the meeting to include all of our members statewide. The meetings are announced on the website and via our groups.io page.
I had the chance to chat with Emmett a bit during the convention in Everett a couple of weeks ago and I believe our convention is in good hands! But like I mentioned at the start of this article, Emmett and the IDXA has "stepped up to the plate", meaning this is a team effort for it to be a success. Emmett and Randy Foltz (K7TQ) will be attending our September meeting to talk to us about the 2021 convention and the initial planning.
Article by John Gager – K7KB
SEPTEMBER 5th SDXA MEETING
Speaker: Mike Ritz (W7VO), the NW ARRL Director, Past President of the Willamette Valley DX Club

Mike will be doing two mini seminars:
1. "Behind the Curtain: Inside the ARRL Boardroom" — Mike will show what actually happens during an ARRL Board meeting, how it's organized, and the special role that Vice Directors play in the process.
2. "Using An SDR To Identify Noise In The Shack" — Mike will demonstrate how to use one of the cheap SDR's to identify specific noise in your shack and area. Jay and I heard Mike present this and it was very helpful. I think we will all get some ideas on how to reduce RFI.
Location: Spokane County Library on Argonne
Time: 7:00 PM
Date: September 5, 2019
SDXA SUMMER PICNIC Photos
Photos by Bob Hallock
SDXA CLUB LEADERS
Club Log – Chuck Williams (KI7DG)
Contests – Jay Holcomb (WA0WWW)
DX Net – Pat (Murph) Murphy (N7UVH)
Google User Group – Mel Ming (N7GCO)
Health and Welfare of Members – Gary Swartout (K7GS)
Historian – Steve Sala (K7AWB)
K7SDX Trustee – Dick Snell (W7BHP)
Membership – John Gager (K7KB)
Meeting Refreshments – Mike Buettner (K7STO), Bob Lee (N7AU), Diane Lee (KB7JPX), Tom Flint (KC7UG) & Cathy Flint (KB7BEK)
New HF Mentoring & Remote Station – Del Morissette (WA7AQH)
Photographers – Jeff Banke (NZ2S) & Bob Hallock (K7TM)
President – Gary Bytner (AD7XG)
Programs – Mel Ming (N7GCO)
QSL Card Checkers — Gary Bytner (AD7XG) & Bruce Wade N7ZA
Secretary – Jay Holcomb (WA0WWW)
Spokane Hamfest – Jay Holcomb (WA0WWW)
Technical – Bob Zavrel (W7SX)
Treasurer – John Gager (K7KB)
Vice President – Mel Ming (N7GCO)
Webmasters – Del Morissette (WA7AQH), John Gager (K7KB), Mel Ming (N7GCO)

HIGHLIGHTS OF THE JULY 11, 2019 PROGRAM
Rob Fanfant (N7QT) Rob is very active in DXpeditions and is president of the Western Washington DX Club
"Ducie Island 2018 DXpedition VP6D"
Ducie Island, a rarely visited island atoll, has been part of the Pitcairn Islands since 1902, there are no permanent inhabitants.
Ducie became a DXCC country on November 2001. It was great to hear all about this very successful DXpedition and one of the first to aggressively use FT8. This DXpedition was awarded the Best DXpedition of the year award at Friedrichshafen.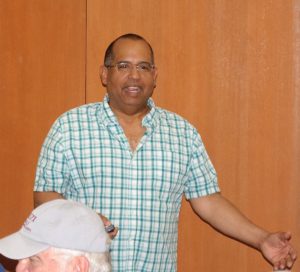 Rob Fanfant N7QT (Jeff Banke Photo)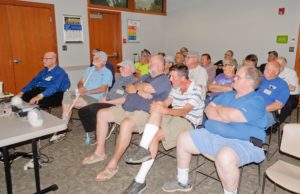 Crowd attending (Jeff Banke Photo)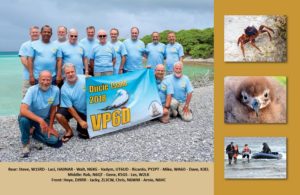 Ducie Island Team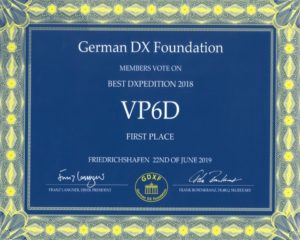 DXpedition of the Year Award
GEOFF HOWARD W0CG/PJ2DX
FEATURED IN THE JULY/AUGUST NCJ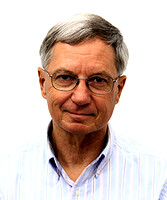 The July/August 2019 issue of National Contest Journal (NCJ) has an excellent article by our own Geoff Howard (W0CG/PJ2DX) titled "A Pictorial Guide to Corrosion-Proofing for Seaside Antenna Systems."
Geoff is certainly an expert on this (and many other things) and we are so glad to have his as part of the SDXA. Enjoy the article thanks to the ARRL and NCJ. You will pick up ideas for your own station, even though you are not near salt water. The article reminds us of how labor intensive this process is, but necessary if you want your towers and antennas to last.
Congratulations Geoff on an excellent article with great pictures as illustrations.
LINK to NCJ Article
LIST OF NEW MEMBERS IN 2019
nz2s – Jeff Banke, Colbert, WA
wa7f – Dave Lehmann, Mead, WA (a new call too, was ki7aar)
wa7tnt – David Wilhelm, Cheney, WA
n7esu – Jim Monroe, Rathdrum, ID
kw7j – Harvey Brown, Greenacres, WA (returning)
JULY 2019 MINUTES RELEASED
3830 … 3830 … 3830
LINK to more info
2019 Pacific NW DX Convention
The 2019 Pacific NW DX Convention was hosted by the Western Washington DX Club in Everett, WA. The attendance was the highest ever. A number of members of the SDXA participated.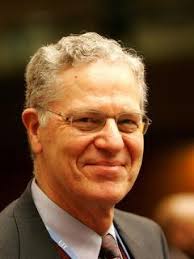 Dr Joe Taylor (K1JT) whose work in Astrophysics led to a Nobel Prize for his study of gravitational radiation of binary pulsars. He was a professor at Princeton and is the creator of the incredible popular WSJT-X and FT8/FT4.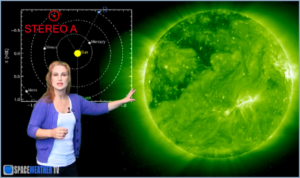 Dr Tamitha Skov (WX6SWW) is a research scientist at the Aerospace Corporation in Southern California. Her specialty is Geophysics and Space Plasma Physics.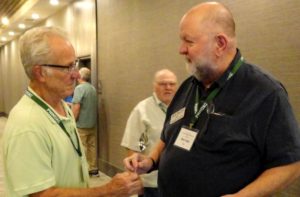 Gary (AD7XG) and Del (WA7AQH)
Del won one of the Grand Prizes, a SteppIR Urban Beam.
(Photo by Bob Hallock)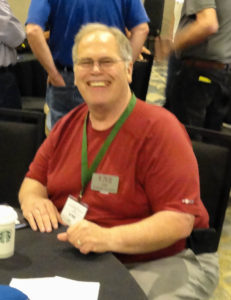 John (K7KB)
(Photo by Bob Hallock)
MOST WANTED LIST (TOP 25)
FOR NORTH AMERICA, WEST COAST
AS OF JULY 1, 2019
from ClubLog
1. FT5/W CROZET ISLAND
2. P5 DPRK NORTH KOREA
3. SV/A MOUNT ATHOS
4. 3Y/B BOUVET ISLAND
5. FT/G GLORIOSO ISLAND
6. YK SYRIA
7. FT5/X KERGUELEN ISLAND
9. ZS8 PRINCE EDWARD & MARION ISLANDS
8. BV9P PRATAS ISLAND
10. EZ TURKMENISTAN
11. BS7H SCARBOROUGH REEF
12. CE0X SAN FELIX ISLANDS
13. T5 SOMALIA
14. PY0T TRINDADE & MARTIM VAZ ISLANDS
15. Z6 REPUBLIC OF KOSOVO
16. 5A LIBIA
17. YV0 AVES ISLAND
18. 3A MONACO
19. 3Y/P PETER 1 ISLAND
20. VU7 LAKSHADWEEP ISLANDS
21. VK0M MACQUARIE ISLAND
22. E4 PALESTINE
23. ET ETHIOPIA
24. FT/T TROMELIN ISLAND
25. PY0S SAINT PETER AND PAUL ROCKS
This list is taken from the ClubLog MOST WANTED section using filtering for North America, NA West Coast, all bands, all modes. The ClubLog list covers all 340 entities. ClubLog is free to join with many SDXA members joining.
DXPEDITION SOLICITATIONS


ALL DXpedition funding requests are to be in writing to the club's mailing address. Since funding is limited, in this manner, our DXpedition funding committee can give your request the consideration it deserves.

For additional info, try this SOLAR LINK for everything you ever wanted to know about the current Sun at the SolarHam site by VE3EN
Link to SPACEWEATHER.COM, a quick source for the daily activity on the sun
Link to NOAA SPACEWEATHER
SDXA CALENDAR
2019
Aug 21 SDXA DX NET
Sept 5 SDXA Meeting
Sept 18 SDXA DX NET
Sept 28 Spokane Hamfest

JOIN THE SDXA

Regular dues – $20 per person.
Second family member – $10.
Under 19 years of age are free.
DUES LINK.
We accept PayPal too.



NW HAM RADIO CONVENTION & SWAP MEETS

Lynn N7CFO keeps the best listing.



LOCAL CARD CHECKERS

Bruce Wade N7ZA



IARC ETHICS OPER PROCEDURES



OUTSIDE HELP IN ANTENNAS & TOWERS



CONTESTING LINKS

There are a lot of links to contesting activities in the DX/Contesting drop down menu above the 24-hour clock on the right of this page. But here are a couple of the best.
1. WA7BNM
2. CONTESTING.COM



INTERNET ENTITY PRONOUNCER

How do you pronounce a DX entity's name? Here is a link to the pronouncing. There is also a audio link to a human voice saying the entity's name correctly. This authority is the 3rd edition Merriam Webster Geographical Dictionary. Covering only legitimate countries, it does not cover non-country ARRL entities.
More Information
Recent News
GOING TO A HAM CONVENTION, SWAPMEET, TAIL GATE PARTY, CONFERENCE, HAMFEST, OR CAMPOUT?


.
WHAT HAPPENED AT THE MAY 2, 2019 SDXA MEETING?


.
BUCKET TRUCK HELPS REPAIRS AT KI7DG'S QTH


.
JEREMIAH PUHEK KD7DMP TOWER CLIMBER IN MAGAZINE ARTICLE


.
SDXA HAD A BIRTHDAY IN APRIL


.