MAY 2019 MINUTES RELEASED

LINK
WHO HAS WON THE SDXA-SPONSORED
7QP PLAQUE IN THE PAST?

2012 STEPHEN SALA K7AWB, highest 7th Area single op, high power, digital score, 9213 points
2015 DAVID WELLS N7AM, Pima, AZ, highest 7th Area single op, digital score, 4686 points
2016 DAVID WELLS N7AM, Pima, AZ, highest 7th Area single op, digital score, 8715 points
2017 PAT MURPHY N7UVH, Post Falls, ID, highest 7th Area single op digital score, 21,021 points
2018 LARRY READER KE2VB, Oro Valley, AZ, highest 7th Area single op digital score, 156,984 points
2019 (YOU?) , highest 7th Area Single-Op (Unassisted) Low-Power CW,
For other awards we offer, go to this LINK
WHAT HAPPENED AT THE MAY 2 SDXA MEETING?
Mel N7GCO gave an introduction to the newest digital mode by Joe Taylor and friends called FT4.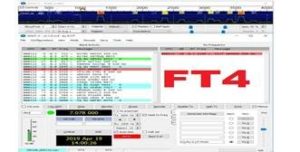 In Show and Tell,
Several hams showed off their projectile air "guns" to launch a weight with a fishing line over tall trees to eventually be able pull up a dipole, inverted V, or other wire antenna. A fly fishing rod was even shown for those who know how to manipulate the skill. Among the presenters were:
1. John (K7KB) "Serial rotor control box" – but the internet connection at the library was not behaving.
2. Mike (K7STO) "NON-Tennis Ball Antenna Launcher"
3. Harold (AD7QJ) "Tennis Ball Antenna Launcher"
4. Bob (K7TM) "Antenna Launcher #3"
5. David (WA7TNT) "ICOM AH-4 Modification" – He showed his modifications to the ICOM AH4 remote tuner so one can disconnect the control cable and coax from the unit without going inside it, which is a feat due to the number of small screws and a very thin formed gasket.
JEREMIAH PUHEK KD7DMP
TOWER CLIMBER FROM JP TELECOMM
SHOWN IN MAGAZINE ARTICLE
LINK TO ARTICLE

(Article reprinted from April-May, 2019 issue of
Health & Home magazine
published by
The Inlander
)
Jeremiah offers a tower climbing service for local hams.
JP Telecomm
tower climbing, running coax/heliax, installing antennas, connectors, solid state and tube repairs, selling refurbished equipment, etc.
phone 509 998-2865
jeremiahp@jptelecomm.com
has rate sheet for hams

APRIL 26 UPDATE TO THE
2019 PROGRAM LIST
FROM VICE-PRESIDENT MEL N7GCO
LINK

IN 2009, SDXA PUT ON ITS FIRST PNW DX CONVENTION
LINK to the 2009 Schedule of Events
Were you there with us at the Spokane Valley Mirabeau Park Hotel? We joined with the WWDXC, WVDXC, and British Columbia DX Club in putting on alternate conventions. We did it in 2009, 2013, and 2017. Maybe 2021 too. This year's convention is put on by the WWDXC in Everett. More info on this year's convention below in articles.
LIST OF NEW MEMBERS IN 2019
nz2s – Jeff Banke, Colbert, WA
wa7f – Dave Lehmann, Mead, WA (a new call too, was ki7aar)
wa7tnt – David Wilhelm, Cheney, WA
n7esu – Jim Monroe, Rathdrum, ID
kw7j – Harvey Brown, Greenacres, WA (returning)
THANKS TO THE FOLLOWING MEMBERS
WHO OFFERED THEIR EXPERTISE
AT THE APRIL, 2018 MEETING

We had several presenters sharing great ideas:
• Building Home Brewed Equipment – K7GS (Gary)
• Tower Pushing Tool – N7AU (Bob)
• Home Brewing USB reboot & serial rotor control box – K7KB (John)
• Adding SDXA Logo to Your QRZ Page – WA7TNT (David)
• Voice Keyer for ICOM Rigs – N7GCO (Mel)
• Rotator Cards for Rotators – N7GCO (Mel)
• PSTRotatorAZ Rotator Control Program – N7GCO (Mel)
ANYONE FOR BOUVET ISLAND?
A SLIGHT POSTPONEMENT
LINK
TO 3Y0I WEBSITE
LINK
TO DX WORLD WEBSITE
THE RAREST OF THE RARE
LINK
TO FUTURE DXPEDITIONS YOU NEED
BUCKET TRUCK HELPS REPAIRS
AT KI7DG'S QTH RECENTLY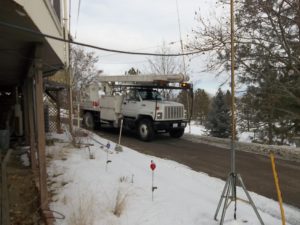 QUID PRO QUO

("something for something" in Latin) is a Latin phrase used in English to mean an exchange of goods or services, in which one transfer is contingent upon the other; "a favor for a favor". Phrases with similar meanings include: "give and take", "tit for tat", and "you scratch my back, and I'll scratch yours" and "one hand washes the other".
Every August in the Pacific Northwest, there is a DX convention which rotates between four cities: Seattle, Portland, Spokane, and Vancouver, BC. This year it is in Seattle on August 9-11 in the suburb of Everett. Features include a full day of technical and DXpedition topics, a major banquet where the Challenge Cup trophy is awarded, breakfast where the grand prizes are awarded, etc.
The SDXA in Spokane has sponsored three of these conventions so far, in 2009, 2013, and 2017 and a possibility of 2021. When we expected a large gathering of hams from the Northwest in those years, this year the Western Washington DX Club (WWDXC) expects a QUID PRO QUO from us and the other groups. If we expect them to come to our conventions, then they expect us to come to theirs. Are you going to the convention in Seattle on August 9-11?
Don't know much about it? Then go to this LINK to see all the programs, info on the hotel, exhibitors, etc.
Now what is your excuse?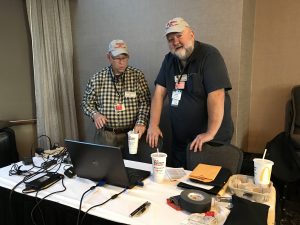 Behind the scenes is what makes a good convention. Here is Mel N7GCO and Del WA7AQH manning the ticket sales at the Spokane sponsored PNW DX Convention in 2017

PNW DX CHALLENGE CUP SCORES BY SDXA MEMBERS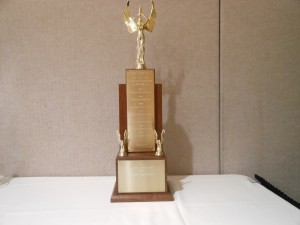 The Challenge Cup trophy
LINK
This link (dated March 8) shows the totals of the first 7 of the 10 contests for the trophy. The last contest shown is the ARRL DX SSB contest. The PNW DX club that achieves the largest score total from the ten contests, adding each member's totals, wins this lovely trophy for the year.
GOING TO A HAM CONVENTION, SWAPMEET, TAIL GATE PARTY, CONFERENCE, HAMFEST, OR CAMPOUT?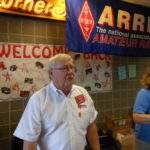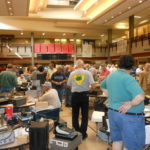 Here is the LINK to the most complete listing for the NW by Lynn N7CFO
SDXA SUMMER PICNIC
SATURDAY, AUGUST 3

IN BEAUTIFUL DOWNTOWN
NINE MILE FALLS
at the QTH of Del WA7AQH
Details later
3830 … 3830 … 3830
LINK
MORE ON THE PNW CHALLENGE CUP COMPETITION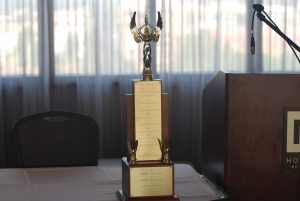 It's the competition between six PNW DX/contesting clubs through ten contests. Jay WA0WWW is our representative tallying the SDXA's scores and submitting them to the group as they occur.
There is both the tally of the SDXA members and the then the tally of the six clubs (SDXA awards a certificate at the its Annual Awards Banquet for the highest total SDXA member and any SDXA member who enters and submits for all ten contests).
The ten-contesting event is between the leading Northwest DX and contesting clubs:
Spokane DX Association (SDXA)
Western Washington DX Club (WWDXC) – Seattle
Willamette Valley DX Club (WVDXC) – Portland
Orca DX and Contesting Club – Vancouver, BC, Canada
Idaho DX Association (IDXA) – Lewiston, ID.
British Columbia DX Club – Vancouver, BC, Canada
The comparison of the six clubs' scores are not available yet, but will be posted when they are available.
The ten contests are (in order):
MOST WANTED LIST (TOP 20) FOR NORTH AMERICA, WEST COAST AS OF APRIL 9, 2019
from ClubLog
1. FT5/W CROZET ISLAND
2. P5 DPRK NORTH KOREA
3. SV/A MOUNT ATHOS
4. 3Y/B BOUVET ISLAND
5. FT/G GLORIOSO ISLAND
6. YK SYRIA
7. FT5/X KERGUELEN ISLAND
8. ZS8 PRINCE EDWARD & MARION ISLANDS
9. BV9P PRATAS ISLAND
10. EZ TURKMENISTAN
11. BS7H SCARBOROUGH REEF
12. CE0X SAN FELIX ISLANDS
13. T5 SOMALIA
14. PY0T TRINDADE & MARTIM VAZ ISLANDS
15. Z6 REPUBLIC OF KOSOVO
16. 5A LIBIA
17. YV0 AVES ISLAND
18. 3A MONACO
19. 3Y/P PETER 1 ISLAND
20. VK0M MACQUARIE ISLAND
This list is taken from the ClubLog MOST WANTED section using filtering for North America, NA West Coast, all bands, all modes. The ClubLog list covers all 340 entities.

DXPEDITION SOLICITATIONS

ALL DXpedition funding requests are to be in writing to the club's mailing address. Since funding is limited, in this manner, our DXpedition funding committee can give your request the consideration it deserves.

SOLAR ACTIVITY AND PROPAGATION SECTION

For additional info, try this SOLAR LINK for everything you ever wanted to know about the current Sun at the SolarHam site by VE3EN
Link to SPACEWEATHER.COM, a quick source for the daily activity on the sun
Link to NOAA SPACEWEATHER
.
Recent News
SDXA HAD A BIRTHDAY IN APRIL


.
SDXA HAS CHANGED ITS MAILING ADDRESS


.
FREE AMATEUR BOOKS


.
MARCH 7, 2019 MEETING PRESENTERS


.
HAPPY PI DAY


.