Friday, January 19th, 2018

Gary at the January, 2017 SDXA meeting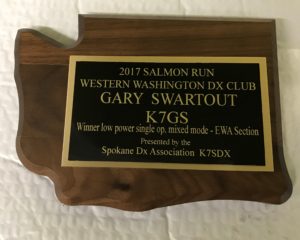 The 2017 plaque
Back in September, 2017, during the Salmon Run contest, Gary scored the most points in the category for which the SDXA gives a plaque.
Congratulations to Gary. It's been a long time since a SDXA member won our plaque. Gary also had the high score for Spokane County. Incidentally, Gary is on the ARRL DXCC Number 1 Honor Roll!
Gary's statistics:
384 QSOs
58 multipliers
60,182 points
The plaque is given to the highest score satisfying these parameters:
Single Operator operation
using Low Power
Operating in the ARRL EWA Section
Mixed mode (two or more modes [phone, CW, & digital], at least 5% of score in the smallest one)
SDXA took 3rd in the club scores with a total of 198,262 points only bested by the Radio Club of Redmond and the South Hill Contest Club.
The entire Salmon Run scores for all entrants are at this 2017 WWDXC Salmon Run Winners LINK
Here is a LINK to all the past winners and their scores