Monday, October 30th, 2017
LINK TO SDXA PLAQUE WINNERS
(SINCE DAY ONE)
SDXA sponsors a plaque for the highest score in the following mixed category:
1. Single Operator
2. Operating in the EWA ARRL Section
3. Running Low Power of 100 or less watts
4. Mixed Mode (two or mode modes with a percentage specified in the Rules)
Here are some comments from the Notables:
HAROLD HEPPNER AD7QJ – SDXA MEMBER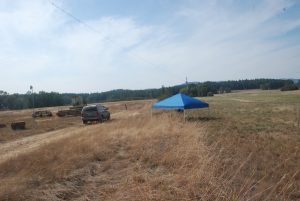 Washington County Expedition
Single operator, Single transmitter (EXP-SOST)
Mode: Phone
I'm sitting on the SPO-STE county line. One end of the antenna is in a tree in Spokane county and the other attached to a temporary pole in Stevens county; the balun is hanging from the pole behind the pop-up.
20 counties and 6 states plus a bonus for working W7DX.
Conditions were bad, score is 4556
Harold AD7QJ
RANDY FOLTZ K7TQ & JAY HOLCOMB WA0WWW – BOTH SDXA MEMBERS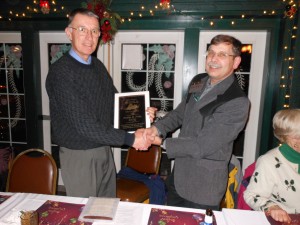 Jay, WA0WWW, and I successfully put 20 WA counties on the air. The good part was that we exceeded our 2015 QSO count of 500 Qs with a heafty 604 Qs. The not so good part of that was our mult count was way down so we came in with a final score less than in 2015. This time our score was 95,224.
Gary, K7GS, caught us in Stevens on 20 and 40 then again in Pend Oreille on 20. Jay was at the key and got Gary to QSY to 40 in Stevens. Great move, Gary. We didn't hear any other SDXA calls. Thanks to all who tried to work us. 40 m during the day was a giant wasteland. We tried it almost every 15 to 25 minutes after the hour for at least a few minutes, but got nothing until the sun went down. By then 20 was nearly dead. It was a fun time for both Jay and I.
Full story and pictures at this RANDY & JAY LINK.
Randy F and Jay H
MICHAEL "DINK" DINKELMAN N7WA – WWDXC MEMBER
Call: W7DX
Operator(s): N7BV N7ZG W7UDH N7WA
Station: W7DX


left to right: Jim K7WA, Dink N7WA, & Daniel W7WA
Class: Unlimited HP
Summary:
Band CW Qs Ph Qs Dig Qs
—————————-
160: 0 0 0
80: 95 96 3
40: 220 104 10
20: 383 647 66
15: 27 8 0
10: 1 0 0
6: 0 0 0
2: 0 0 0
—————————-
Total: 726 855 79 Mults = 98 Total Score = 403,956
Club: Western Washington DX Club
Comments:
This was a three station Unlimited operation from three different counties (one for each mode). I hope you actually copied the county for each mode instead of using the log pre-fill. Sounds like some people got confused.
Conditions sucked, but I think too many people gave up on 15M. I went to 15M a lot (even 10M). Whenever I went there, there usually a few people and they were usually quite readable. They ranged from locals to the east coast. Sunday was like the Sweepstakes "Sunday Grind". Just call into the wind and sometimes something came back to wake you up.
There were challenges in getting three stations networked together over the internet. Only the CW station was able to see the other two. SSB and RTTY couldn't see each other's logs or send Talk messages.
I really tried hard for the mobiles. Every time one was spotted, I would do a look-see. Weaker than well water if they could be heard at all. Fortunately, they did seem to be working others outside the state.
My thanks to my partners in this endeavor (N7BV and N7ZG). Sometimes it was really boring, but they stayed BIC. My thanks to W7UDH for coming over and sitting in my chair for a few hours.
cheers
dink, n7wa
__._,_.___