Friday, September 8th, 2017
He took his novice test from Al William Beck W7EQM in Page, Id. He received his KN7AWB license on July 29, 1957 in Osburn, ID. Al's initials are AWB and that is lottery odds that Steve's call contain Al's initials, a long time before vanity licensing. Here are a couple of photos from that era.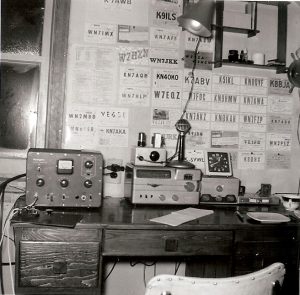 An Allied Radio Knight Kit T-50 transmitter, a National SW-54 receiver, and a Heath Kit Q-multiplier. On top of the receiver is a grid modulator I built from the Handbook to get on AM phone. The wall proved incapable of holding all the QSL cards eventually.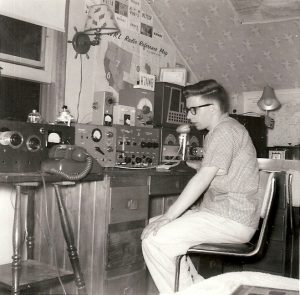 A little later, He had upgraded to a Central electronics 20A SSB transmitter, converted his T-50 transmitter to a 50 watt amplifier for the 20A, and converted his Knight Kit VFO to a 9MHz output for the 20A. A Heath Kit Grid Dip Oscillator and phone patch were added along with the super Hallicrafters SX-99 receiver.