SDXA DX NET
ON FEBRUARY 20, WEDNESDAY
We have a new Net Control N7UVH Pat from North Idaho. And the net is now on the THIRD Wednesday of each month. There is another article on the net below.
February 20, Wednesday
7pm
145.25 MHz
no tone
minus (-600 Hz) offset.
RECENT ARRL DX CW CONTEST
RULES LINK
Entries for the CW competition must be uploaded or postmarked by 2359 UTC February 24, 2019.
This was the 6th contests in the ten contest competition between PNW DX clubs. Your scores allow the SDXA to compete with the WWDXC in Seattle, the WVDXC in Portland, the IDEX in Idaho, and the Orca DX and Contesting Club in British Columbia.
FREE AMATEUR BOOKS
1. K1TTT David Robins: BUILDING A SUPER STATION
The history of building the K1TTT amateur radio super station in Peru, MA. You purchase it at $0.00 which means free! 713 pages.
Free PDF download to your computer at this K1TTT LINK.
2. G3TRP Trevor Preece: THE THE VHF/UHF DX BOOK, 2017 Replica Edition
The VHF/UHF DX Book was written in the early to mid-1990s by a team of experienced VHF/UHF DXers and equipment developers, in an effort to pass on our knowledge and stimulate further developments. Looking back, that plan worked very well… for a time. But as we entered the digital age, information of lasting value became trapped on the printed pages and was lost to the next generation of VHF/UHF DXers.
This digital replica of the Second Printing dated 1995 has been released by permission of the copyright owner TRPublishing and its proprietor Trevor Preece G3TRP.
Free PDF download to your computer at this G3TRP LINK.
3. PVRC 2015 ARRL DX CONTEST COOKBOOK
.
Free PDF download to your computer at this PVRC COOKBOOK LINK.
FEBRUARY 2019 MINUTES
LINK
Note to EZNEC Antenna Modeling Workshop participants:

Due to the weather postponment, the workshop is now on for Saturday, April 20 at 1 pm. Location is pending and will be released soon.

Mel (N7GCO) and Bob (W7SX)
THANKS TO BOB ZAVREL W7SX
FOR HIS PRESENTATION ON EZNEC
AT THE FEBRUARY 7, 2019 MEETING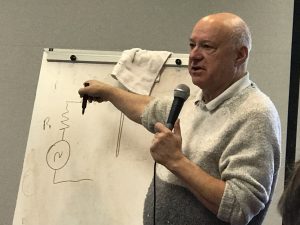 Antenna Modeling Orientation — Another great presentation by our local best selling ham author and ARRL Technical Advisor W7SX Bob Zavrel. It was an introduction to "Antenna Modeling". He focused on EZNEC, which is by far the preferred software program tool for amateurs.
There will be a free follow-up workshop on EZNEC when the weather is better and more safe. We will let you now ahead of time. This now gives you more time to obtain your EZNEC software.
For those that want to use EZNEC, you can purchase it and install on your computer and bring to the workshop. Here is a link to the NW site that sells it:
https://www.eznec.com/
Bob is the author of the ARRL published book entitled "An Introduction to Antenna Physics", available from the ARRL or Amazon.com.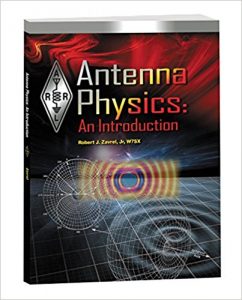 LINK to Amazon.com book site
LINK to ARRL book site
FEBRUARY DX NET ON FEBRUARY 20, WEDNESDAY
SDXA DX NET:
NEW DAY OF MONTH
NEW NET CONTROL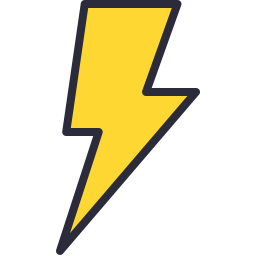 At the February 7 meeting, a vote was taken to change the day of the month to the THIRD WEDNESDAY, still at 7 pm on the 145.25 MHz repeater, no tone, minus offset (-600 Hz). The new Net Control is Pat Murphy N7UVH of Post Falls, ID. The next net will be on February 20.
Here is the typical preamble that is used at the beginning of the net:
QST. QST, QST … this is (Your Call)
calling the Spokane DX Association Amateur Radio DX Net that meets every
third Wednesday at 1900 hours local on 145.250 MHz, the N7BFS repeater. The
purpose of this net is to share DX information among SDXA Members.
Stations with any emergency traffic may break in at any time; visiting
stations are invited to check in after the call for SDXA Members.
Ask everyone to check in by Areas. Share DX Information with SDXA Members. Ask for late check-ins and Visiting Stations. Close net at whatever local time is and Thank Doug Cole (N7BFS) for the
permission to use the 145.25 repeater.
Send the list of the names and calls of all check-ins to K7AWB, the SDXA Webmaster, for publishing on the site.
UPCOMING SDXA PROGRAMS – MARCH to JUNE
SDXA SUMMER PICNIC
SATURDAY, AUGUST 3
IN BEAUTIFUL DOWNTOWN
NINE MILE FALLS
at the QTH of Del WA7AQH
Details later
PUTTING A LOT OF HAM DATA ON ONE MONITOR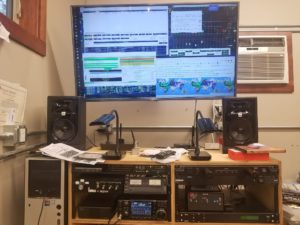 This setup belongs to Del WA7AQH. The monitor is a 48″ LG 4K UHD TV at 3840×2160 resolution. Was $329 at Costco. This is the same screen space as four 24″ monitors running 1080P resolution.
Windows open left side from the top:
N3JFP's AC Log
WSJT-X
WSJT-X bandscope
Windows open on the right:
XR12 Mixer (background)
Elecraft W-2 power/swr meter
JT-Alert
PSK Reporter in a browser window
LATEST SDXA MEMBERS' TOTALS IN THE PNW RACE
JANUARY 11, 2019 LINK
SIGN UP FOR THE 2019 PNW DX CONVENTION
IN SEATTLE
AUGUST 9-11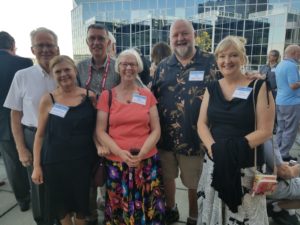 Some members and their spouses at the 2018 PNW DX Convention in Vancouver, BC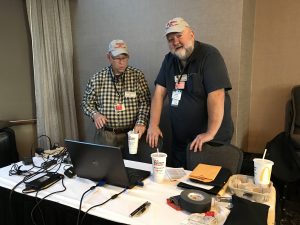 Behind the scenes is what makes a good convention. Here is Mel N7GCO and Del WA7AQH manning the ticket sales at the Spokane sponsored PNW DX Convention in 2017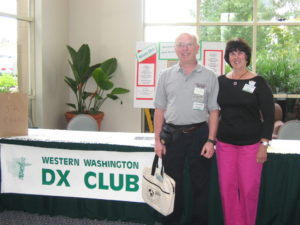 Stephen K7AWB & Peggy W7PEG at the 2004 PNW DX Convention in Everett.
.
Here is the LINK to see the presentations, sign up for the event, and book your hotel early. It looks like a wild weekend!
3830 … 3830 … 3830
LINK
SDXA FIELD DAY 2019?
LINK to more info
THE PNW CHALLENGE CUP COMPETITION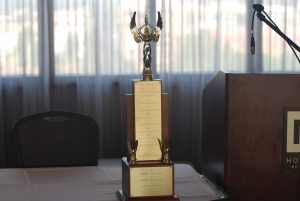 It's the competition between six PNW DX/contesting clubs through ten contests. Jay WA0WWW is our representative tallying the SDXA's scores and submitting them to the group as they occur.
There is both the tally of the SDXA members and the then the tally of the six clubs (SDXA awards a certificate at the its Annual Awards Banquet for the highest total SDXA member and any SDXA member who enters and submits for all ten contests).
The ten-contesting event is between the leading Northwest DX and contesting clubs:
Spokane DX Association (SDXA)
Western Washington DX Club (WWDXC) – Seattle
Willamette Valley DX Club (WVDXC) – Portland
Orca DX and Contesting Club – Vancouver, BC, Canada
Idaho DX Association (IDXA) – Lewiston, ID.
British Columbia DX Club – Vancouver, BC, Canada
The comparison of the six clubs' scores are not available yet, but will be posted when they are available.
The ten contests are (in order):
SDXA HAS CHANGED OUR MAILING ADDRESS
Spokane DX Association
13010 S Short Rd
Cheney, WA 99004
UPCOMING CURRENT DXPEDITION LIST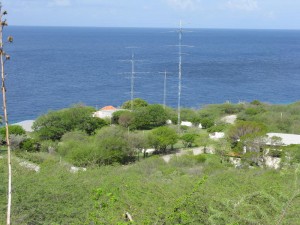 Anyone for Curacao?
DXPEDITION LINK

for more.
MOST WANTED LIST (TOP 20) FOR NORTH AMERICA, WEST COAST AS OF JANUARY 11, 2019
from ClubLog
1. FT5/W CROZET ISLAND
2. SV/A MOUNT ATHOS
3. P5 DPRK (NORTH KOREA)
4. 3Y/B BOUVET ISLAND
5. FT/G GLORIOSO ISLAND
6. YK SYRIA
7. FT5/X KERGUELEN ISLAND
8. BV9P PRATAS ISLAND
9. ZS8 PRINCE EDWARD & MARION ISLANDS
10. EZ TURKMENISTAN
11. BS7H SCARBOROUGH REEF
12. CE0X SAN FELIX ISLANDS
13. T5 SOMALIA
14. Z6 REPUBLIC OF KOSOVO
15. PY0T TRINDADE & MARTIM VAZ ISLANDS
16. 5A LIBIA
17. YV0 AVES ISLAND
18.2A MONACO
19. 3Y/P PETER 1 ISLAND
20. VK0M MACQUARIE ISLAND
This list is taken from the ClubLog MOST WANTED section using filtering for North America, NA West Coast, all bands, all modes. The ClubLog list covers all 340 entities.

DXPEDITION SOLICITATIONS

ALL DXpedition funding requests are to be in writing to the club's mailing address. Since funding is limited, in this manner, our DXpedition funding committee can give your request the consideration it deserves.

SOLAR ACTIVITY AND PROPAGATION SECTION

For additional info, try this SOLAR LINK for everything you ever wanted to know about the current Sun at the SolarHam site by VE3EN
Link to SPACEWEATHER.COM, a quick source for the daily activity on the sun
Link to NOAA SPACEWEATHER
.
Recent News
THANKS TO DEL MORISSETTE WA7AQH FOR HIS SOUND PRESENTATION AT THE JANUARY MEETING


.
SDXA Brochure


.
HAMS HELPING HAMS


.
JACK TILEY AD7FO BECOMES NEW EWA ARRL SECTION MANAGER


.
2019 SDXA ELECTION RESULTS


.